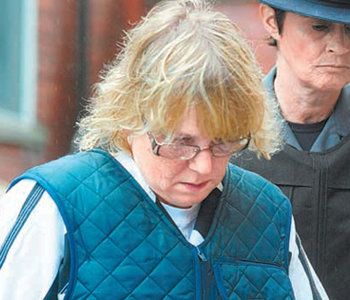 Joyce Mitchell, 51, female prison employee who aided two inmates to escape from a maximum-security prison in the U.S., a sexual relationship with one of them, and even plotted to kill her husband, U.S. media outlets including CNN reported on Monday. The escapes are still free and on the run on the ninth day after fleeing the prison on June 6.
Mitchell, who works with her husband at a tailor's shop within the Clinton Correctional Facility in New York, is a normal middle-aged white woman with one child. She was arrested on Friday for the charge of aiding Richard Mat, 48, and David Sweat, 34, to escape from the prison.
According to U.S. media, Mitchell had kept intimate relationship with the men since 2013, and proactively helped them escape from prison, believing that they would kill her husband. A source said that Matt seduced Mitchell and she also believed that he loved her.
Mitchell, who is in detention house, appeared at court handcuffed on the day, but she remained silent despite a flurry of questions from reporters. If convicted, she would face up to eight years in prison.
Matt had been sentenced to 25 years in prison in 1997 for kidnapping and killing his former boss and maiming the body. Sweat was given life in prison in 2002 for killing the deputy sheriff in Broom County in New York. The escapees made a hole on the back wall of a prison cell early in the morning on June 6, climbed down interior wall measuring over nine meters in height, and made their way through a manhole near the prison. The Clinton Correctional Facility is one of the most thoroughly guarded prisons in the U.S., and U.S. media have called their escape the "Shawshank Redemption of modern times." Police mobilized more than 500-strong troops to search operation, increased the forces by 300, and are thoroughly searching areas around the prison, but have yet to find the jail breakers.
dew@donga.com