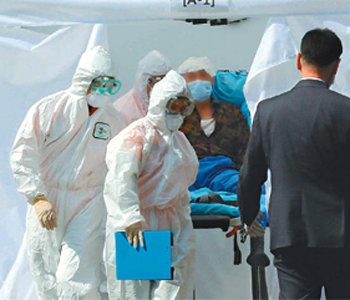 President Park Geun-hye on Wednesday postponed her visit to the U.S. scheduled for next week in a surprise move. Although the MERS outbreak has shown signs of abating, she took the measure to block criticism that she is taking an overseas tour while disregarding "public safety." The measure also implies that Park is taking public distrust in the government more seriously than MERS risks.
"President Park has decided to postpone her visit to the U.S. (scheduled on June 14-19) to ensure the safety of the people, including early control of MERS outbreaks," said Kim Seong-woo, senior presidential press secretary. "Since public safety is top priority, (President Park) will continue efforts to dispel public anxiety by staying put in Korea," thus emphasizing anew that the priority of state administration lies in the safety of the people.
Park's decision is related to the recent development in society, in which the MERS situation is being framed as an incompetent government as was the case for the Sewol ferry disaster last year. Starting with the government's sloppy initial response, lack of a central command for the government, and incompatible measures sought by different ministries have been under heavy criticism in succession day after day. According to a public survey conducted by Real Meter on Monday and Tuesday, respondents who replied that she should delay her U.S. visit (53.2 percent) outnumbered those who said she should visit as scheduled (39.2 percent). Some analysts say that Park sided with her political affairs team, which emphasized public opinions, rather than with her diplomatic team stressing the importance of a Korea-U.S. summit.
Some watchers say that President Park's postponement of U.S. visit is feared to cause Korea to lose a chance to further cement the Korea-U.S. alliance amid a period of "new honeymoon between Washington and Tokyo." Press secretary Kim said, "Korea and the U.S. agreed to reschedule the president's visit to the U.S. at the earliest convenience for both sides."
However, it is uncertain whether Park's visit could be actually arranged by the end of this year. A government source said, "Generally, the U.S. sets a date for a Korea-U.S. summit," suggesting that a new schedule for their summit is dependent upon U.S. President Barack Obama's schedule.
Some watchers cautiously predict that Korea and the U.S. could hold a summit in a natural fashion on the sidelines of the U.N. General Assembly set in September. Customarily, Korean presidents have been participating at the U.N. General Assembly every other year. Since President Park attended last year's U.N. General Assembly, she would skip if she follows ordinary practice. However, the government has not dumped the option of her attending the event, because this year marks the symbolically important 70th anniversary of the U.N.
Since President Obama is highly likely to attend the U.N. General Assembly, chances are that an informal Korea-U.S. summit could take place in New York rather than Washington. However, unlike a summit conducted through the president's visit to the U.S., the leaders cannot afford to have in-depth discussions at a summit convened on the sidelines of a U.N. General Assembly meeting where many heads of state gather together.
egija@donga.com