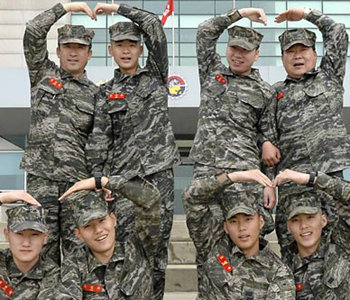 On Baengnyeong Island, South Korea`s northernmost island off the west coast and closest to North Korea, there are 14 families of soldiers defending it. Some are fathers and their children, while others are married couples or brothers.
Staff Sergeant Yoo Hong-gi, 23, a native of the island, is serving at the 6th Brigade of the South Korean Marine Corps side by side with his father, Master Gunnery Sergeant Yoo Kwi, 52.
"I will firmly defend Baengnyeong Island at the forefront with my father," said the junior Yoo, who volunteered to join the marines after graduating from a high school on the island.
A father and his daughter are defending the island, too. Warrant Officer Kim Chan-soo, 48, is serving as the leader of a maintenance platoon of an Army aviation battalion, while his daughter, Hong Soo-bin, 23, is a staff sergeant at the 6th Marine Brigade.
She fell in love with Staff Sergeant Jang Hyeon-seop, 22, of the same brigade. The two tied the knot in April. Lance Corporals Seo Hyeon-gyu and his twin brother Min-gyu, 21, did not join the Marines at the same time but fortunately ended up serving on the island. The twins, who aspire to become scholars, said they will "burn their passion of youth" on the island as young men who take challenges for their dreams "the way Marines land in the enemy lines to achieve their goal."
neone@donga.com