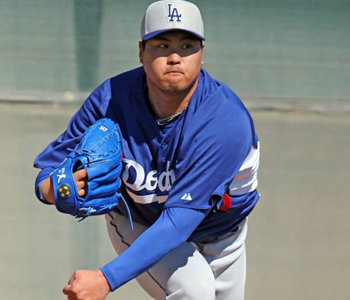 It is still not clear when LA Dodgers' Ryu Hyun-jin will return to the mound. Ryu threw a bull pen session for the second time Wednesday after having been sidelined due to injury. "I'm doing well, not bored. I want to return to the mound immediately when my arms gain strength," Ryu said.
U.S. media is paying great attention on the timetable for Ryu's return. Leading sports sites said on Wednesday that Ryu's return could take at least a month. But the exact time is vague.
Ahead of the start of the game, Dodgers' manager Don Mattingly said that what is decided as for now is that Ryu will pitch for the next bull pen, adding that it is certain that time is approaching for Ryu to return to the mound. Mattingly said that Ryu "hasn't missed a beat. It's just a matter of him getting strong. He threw 80-mile throws today," adding he will set up a batter for Ryu's next bull pen on May 2.
MLB.com Dodgers reporter Ken Gurnick forecast that Ryu`s return could be longer than that of closing pitcher Kenley Jansen who went through foot surgery. This is because Ryu is a starting pitcher. Gurnick said Ryu should strengthen his shoulder and has to throw 100 throws. When asked whether Ryu has to go through rehab pitching at Minor League, he signaled its possibility by saying it remains to be seen but Ryu will have to do as told.
On media reports in Korea that the absence of Brandon McCarthy, who can't play this season after surgery to reconnect his elbow tendon, can influence Ryu's return, Ryu said, "That has nothing to do with my return. I'm going through the same preparation process," adding, "I repeated training to strengthen shoulder muscle. I have regained much power."
moonsy1028@gmail.com