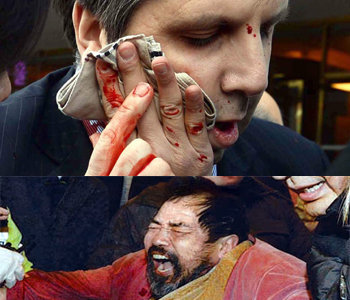 South Korean President Park Geun-hye on a trip to the Middle East has strongly condemned a knife attack on the U.S. ambassador to Seoul.
"The latest incident is not only an act of physical violence on the U.S. ambassador in Seoul, but also an attack on the South Korea-U.S. alliance, which cannot be pardoned," the senior presidential secretary for foreign affairs Ju Chul-ki quoted the president as saying on Thursday.
Ju also noted the president expressed astonishment. She made the remarks at 3:13 a.m., local time, in Abu Dhabi, the United Arab Emirates, the third leg of her four-nation visit to the Middle East, suggesting that she was briefed on the attack just 30 minutes after it occurred.
The aide quoted Park as saying that Seoul is taking necessary measures including a thorough investigation and the intensification of security alerts. The president extended her consolation to the family of the U.S. envoy as well as to the U.S. government and President Barack Obama, according to Ju.
The presidential office Cheong Wa Dae held a National Security Council meeting chaired by National Security Adviser Kim Kwan-jin on Thursday afternoon to discuss future measures. Prime Minister Lee Wan-koo ordered the police chief to "carry out stern investigations into not only the truth of the matter but also the masterminds behind it."
Meanwhile, the Supreme Prosecutors` Office defined the attack as an act of terror, assigning the case to the public security department of the Seoul Central Prosecutors` Office. The prosecution plans to conduct a close scrutiny of the assailant`s mobile phone call records and look for relevant information to determine whether there are masterminds or collaborators behind him.
egija@donga.com