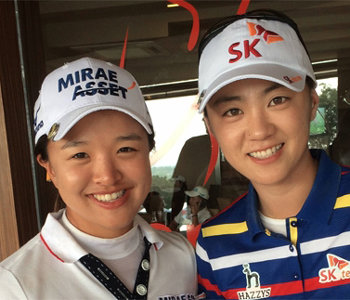 Before starting golfing career, the two golfers trained their mind and body wearing white uniform at taekwondo academies. Having served as members of the Korean national team who were attending Daewon Foreign Language School, they both underwent elite athletic courses. They always wear pants, sharing fashion style as well. Choi Na-yeon (28) and Kim Se-young (24) won the title consecutively in the first and second tournaments of this season's LPGA tour together, but appear different each other. The caddie who provided ample help to Kim when she won the title had also teamed up with Choi for nearly four years.
The two Korean pro golfers, who already garnered victory in early days of the season, are both participating at the Honda Thailand Championship, which is taking place in the Siam Country Club in Chonburi, Thailand. Kim is the only rookie player at the event who banks on her own performance. She was not eligible to take part, but was able to participate in the event after winning the championship this season. It is the first time that the two athletes participate in the same championship after winning a championship title each.
At the club house on Friday, Choi and Kim warmly greeted each other and exchanged congratulatory messages once again. Choi, who acquired her first LPGA title at her 55th attempt after moving to the LPGA tour, said, "Se-young is amazing because she won the title just at her second attempt. Unlike an ordinary rookie player, she is adapting herself to the LPGA very efficiently." Kim said, "I owe my success to elder sisters (seniors) including Na-yeon. They give me lots of good advice."
Choi and Kim were wary of negligence and self-complacency that could come to negatively affect their performance in the coming months after winning their first wins of this season early on. Choi said, "I sometimes think to myself that now I could afford to leisurely enjoy and play golf. Hence, I have elevated my goal even further. I cannot tell you because it is still a secret." Kim said, "After I won a trophy, people around me are paying more attention and giving more compliments to me. I think this is a reward for winning the title, but I still have a long way to go. I am trying hard to renew my commitment and continue aspiring for the top place, rather than getting complacent."
Choi, who had won no title for two years until last year, renewed commitment to take a new leap forward this season, and underwent an intensive training program. Even during the championship periods, she visits the fitness center in the lodging facility every day and is working hard to maintain and strengthen her muscular strength. Kim, who says she is still struggling due to her poor English proficiency, is continuously taking English lessons through Skype from a native speaker based in Korea every day.
Choi finished the first round 1 under par, while Kim had 2 under par. When Kim asked Choi "Why don't we get together for a meal one day," Choi replied with a smile, "That's a great idea. Let's set schedule soon."