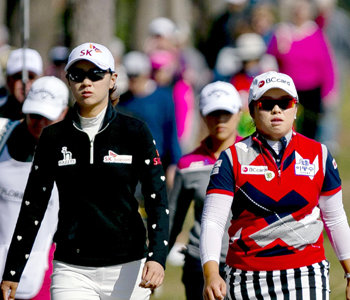 Korean golfers who have dominated the LPGA tour since the beginning of this season cannot take time off during the Lunar New Year holidays. They have won two LPGA titles since the start of the 2015 season, and will target a third title in the upcoming ISPS Handa Women`s Australian Open in Melbourne on Thursday.
Korean golfers have never won three titles in a row from the beginning of a season since 1998 when Park Se-ri joined the LPGA tour. Kim Joo-mi won the SBS Open, the first tournament of the 2006 season, and Lee Mee-na claimed a trophy in the following Fields Open. It is the second time that Korean golfers claimed two titles in a row from the start of a season. They are Choi Na-yeon (SK Telecom) and Kim Se-young (Mirae Asset). Three consecutive wins during last season were made by Ryu So-yeon at the Canadian Women's Open), Hur Mi-jung at the Yokohama Tire LPGA Classic) and Kim Hyo-joo at the Evian Championship).
Choi Na-yeon aims at a second win in the four-day tournament in the Royal Melbourne Golf Club after her win in the first tournament of this season. Other favorites are Jang Ha-na (BC Card) who showed strong potential from her debut on the LPGA tour, Yang Hee-young who learned golf playing in Australia, and Choi Woon-jung (Volvik) who came second narrowly behind the winner last year.
Lydia Ko, a Korea-born New Zealander and the world's no.1 golfer who has showed strength in Australia, Karrie Webb, an Australian golfer and last year's winner, and Lee Min-ji, a Korean-Australian golfer, have a home advantage. Park In-bee, the world's no.2, and Kim Sei-young, this year's Bahamas LPGA Classic champion, will not participate in the tournament.