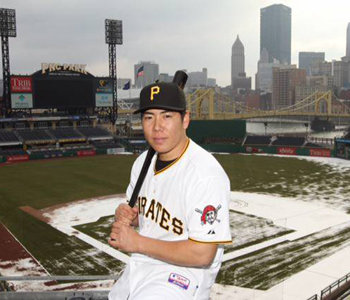 "I have zero intent to send [Kang] to the Minor Leagues."
Neil Huntington, general manager of the Pittsburgh Pirates, made the remarks after signing official contract with Kang Jung-ho on Saturday (Korea time). Then he added, " We look forward to confirming our belief in him as a shortstop... There will be a significant transitional period, and our immediate focus is to help with the cultural transition."
Kang signed a contract that guarantees a combined total of 11 million U.S. dollars for four years through 2018, becoming the first fielder that directly moved to the Major League from the Korean pro league. On top of that, Kang could receive a total of up to 3 million dollars for four years depending on the number of playing at bat.
Pittsburgh will decide in 2019 whether to keep Kang or send him out, because he signed a "4+1 year" deal. If Pittsburgh chooses to keep him, it will pay him 5.5 million dollars in annual pay, and if it chooses to release him, it will pay 1 million dollars in "separation pay."
○ Kang Jung-ho's contract as seen from American media
Kang's official signing of contract was not widely picked up by mainstream media in the U.S. This is because as players who applied for annual salary adjustment had shunned salary adjustments, news on their signing of one-year contract was released en masse on the same day.
MLB Network, a channel dedicated to baseball, reported news on Kang's signing of the contract in its "MLB Tonight" show through Richard Justice, an MLB.COM columnist. The host Fran Charles told Justice that if Kang is given enough chances, he can perform better than the player (Jody Mercer) who is currently taking the shortstop post, fueling competition between the two players. Mercer ranked sixth among the shortstops of the 2015 Major League as picked by MLB Network ahead of the season's opening.
Commentator Ron Darling said that chances are high that Kang Jung-ho will take a left-side infielder position, as if alluding to the shortstop or third baseman position. He added that with his strong ball throwing capacity, Kang could be used as an outfielder as well, predicting that he stands a high chance to serve as a utility player.
○ Kang reunites with Nexen Heroes players
Kang Jung-ho, who signed the contract in Pittsburgh, directly flew the next day to Surprise in Arizona, where his previous team the Nexen Heroes is running an off-season training camp. Upon arrival, Kang said, "I am confident in batting. If I am going to take the shortstop position, I will have to exercise more in defense."
He was wearing Nexen Heroes uniform during exercise on the day after gaining approval from Pittsburgh. Kang, who used uniform No. 16 at Nexen, will have No. 27 in Pittsburgh. This number was once used by pitcher Shane Youman, 36, who moved to the Hanwha Eagles in the Korean league this season, when he was playing for Pittsburgh.
In fact, Pittsburgh had some relationship with Nexen already. It was the team that formed sisterhood ties with Hyundai and Pacific, the effective predecessors of Nexen. For this reason, Bradenton in Florida, where Pittsburgh will run its off-season spring training in February, is also a familiar place to Kang. Nexen also visited the place once to conduct off-season training.