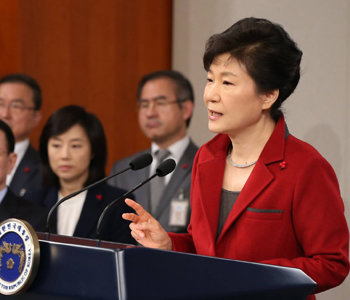 President Park Geun-hye made an apology on the document scandal on Jeong Yoon-hoi, a former presidential advisor, for the first time at her New Year's press conference on Monday, saying, "My heart is heavy and I feel sorry for frustrating our people for the document scandal." She also said, "Disrupting society with something that is not true should never be repeated. I'll tighten discipline in public offices."
President Park announced a plan to reshuffle the organization of the presidential office Cheong Wa Dae and create a special advisory group in key areas. The president intends to enhance communication with politicians and policy promotion capacity through the special advisory group, while additional reshuffle is expected among certain government agencies.
President Park said that she does not intend an immediate personnel reshuffle, which drew most public attention. Over Kim Ki-chun, the presidential chief of staff, President Park said, "The chief of staff is a rarely impartial person. I'll decide it (whether he will stay or not) after resolving many pending issues." Although the president seems to keep the chief of staff for now, she could possibly replace him in line with the reshuffle of the presidential office.
However, the president drew a clear line on her closest advisors such as Lee Jae-man, secretary for administrative affairs, and Jeong Ho-sung and An Bong-geun, two personnel secretaries, saying, "There is no reason to replace them." "Prosecutors and even the media and opposition parties combed through them for any possible corruption (of the three advisors), but there was none," the president said. "If I throw them away because they were suspected, then who would want to work with me?"
President Park implied a minor cabinet reshuffle, saying, "I'll focus on areas where I absolutely need to reshuffle such as the Oceans and Fisheries Ministry." The president said on the scandal over Jeong Yoon-hoi, "It's not worth answering the question over whether he (Jeong) is a heavyweight or not. He has never been near state affairs."
"Pyongyang should respond to our dialogue without hesitation. Denuclearization is not a precondition (for an inter-Korean talk)," the president said on the improvement of the inter-Korean relationship. "Unless North Korea's nuclear issue is addressed, we cannot talk about peaceful reunification." Over the relationship between Korea and Japan, President Park said, "Japan's change important. Unless the comfort women issue is not addressed in the near future, it will end up as a cold case and become a heavy burden of history to Japan."