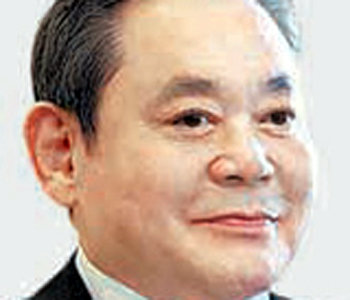 "Chairman Lee Kun-hee has turned 74 on Jan. 9 at a hospital. He is in stable condition and steadily recovering. All the Samsung family members wish his fast recovery from the bottom of the heart."
On Friday morning, Samsung Group shared a 5-minute video clip that begins with this subtitle through its intranet with all Samsung affiliates. The video wished swift recuperation of bedridden Lee Kun-hee (photo), chairman of Samsung Electronics who turned 74 at his hospital room.
For starters, Samsung Lions manager Ryu Joong-il and pitcher Lee Seung-yeop appeared with a wishful message, saying that they are waiting for him to return to management in good health. Some of the staff whom Chairman Lee met in September 2011 when he attended the inauguration ceremony of Line-16 memory semiconductor fabrication facility in Hwaseong, Gyeonggi, left a get-well message. Also on the video were employees who had a lunch with the chairman at company's cafeteria in Suwon when he was visiting there in July 2011 and Samsung family members in overseas workplaces and construction sites, joining the ranks of "wishful thinking" to pray for his health.
The video attracted full attention from all the affiliate companies of Samsung Group with more than 10,000 replies. Some of them said "I was so moved" or "It made me cry before I knew it."
On the day, Chairman Lee`s family including his son Lee Jae-yong, vice president of Samsung Electronics, visited him at Samsung Medical Center in Gangnam, Seoul. Other than his family, Choi Ji-sung, head of Samsung's Future Strategy Division, made his routine visit to the patient's room before going to work to check his physical condition.
Every year, Samsung Group holds a banquet at Hotel Shilla in central Seoul where couples of companies' presidents attend to celebrate the chairman's birthday but this year was the exception.
Chairman Lee has been hospitalized for eight months now since he collapsed in acute myocardial infarction at home last May. He is known to be conscious for more than 15 hours a day now with his respiration and locomotive capacity partially returning. His cognitive capability, however, is said not to be fully recovered.
Chairman Lee Kun-hee was born in Daegu on Jan. 9, 1942 as the third son of the late Samsung founder Lee Byung-chull. Since 1987 when his father passed away, he has taken the lead in Samsung management, bringing success after success in many business areas such as semiconductor and making substantial contribution in transforming Samsung Group into a global brand.