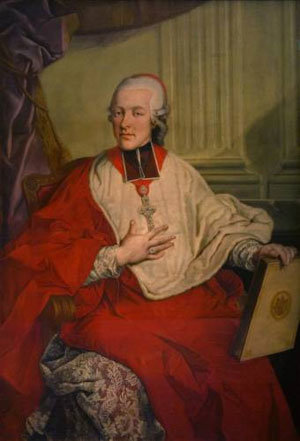 Wolfgang Amadeus Mozart was kicked in the butt at 25 in June 1781. At the command of Archbishop Colloredo, the ruler of Salzburg, he was literally "kicked in the butt" by the archbishop's steward Count Arco. Kicking the court musician out of the archbishop's palace was symbolic. As a result, Mozart left for Vienna of the Austrian Empire. It was the day when Salzburg, the hometown of Mozart, lost the genius.
What separated the archbishop from Mozart? Some say that it was due to his low salary but Mozart did not leave the job even though other aristocrat in Salzburg proposed him three times his salary. The key values were "respect" and "freedom."
When young, Mozart crisscrossed Europe and met with the king of each country. Mozart who received the Golden Spur from the Pope expressed displeasure, saying that the archbishop thought him as a servant. To make matters worse, the archbishop stopped him from doing external activities. The free soul wanted to show off his talent in large cities such as Munich in Germany. The archbishop, however, could not stand his "servant" wandering here and there.
Let's think about who won. In the short term, it was not a loss to Mozart. He made a success by hosting a concert for his own music including a piano concerto. Some say that he fell into poverty after losing popularity, but others see that it was a bit exaggerated. It was not a loss to the archbishop, either. He could choose a new conductor who obeys to him. The only one who had a loss would be music fans in Salzburg who lost Mozart. Back then, the musician already had many followers through concerts for his own music in Salzburg.
Salzburg, which made Mozart leave with disgrace, now attracts tourists from the globe as the city of Mozart. Only Archbishop Colloredo and his servant Count Arco are ridiculed. Fortunately, it was in the era of absolutism. If Salzburg had had a Senate or a parliament, the citizens would have been criticized until now.