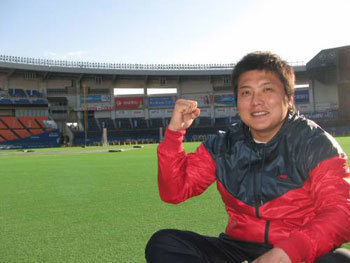 Korean baseball slugger Kim Tae-kyun, 28, of Japan's Chiba Lotte Marines looked energetic Saturday at Chiba Marine Stadium, which is about a 40-minute subway ride away from Tokyo.
It was his third week since he moved to Japan. "In my first three days in Japan, I wanted to return to Korea, but I feel more comfortable now," he said.
Kim said he has become as relaxed in Japan as he was in Korea, and full of confidence. He looked like the star who produced a string of hits in the World Baseball Classic in February last year.
○ Japanese media's misunderstanding
Kim, 28, said he was surprised several times after arriving in Japan Jan. 5. Japanese journalists closely followed him immediately after he came out of the arrival section at the airport, calling his earring, sunglasses and attires "yakuza fashion."
"I like beautifying myself. Except in games, I am attentive to fashion. When arriving in Japan, I wore my earring just as usual, but got perplexed to see the Japanese media seeking to give meaning to every detail," he said.
A similar situation occurred in his private practice sessions as well. One news report read, "Why did Kim Tae-kyun bat 99 times?" Unlike in Korea, Japanese media report on every little detail about players.
"The Japanese media is wary of small details. Asked if I plan on getting a Japanese girlfriend, I answered, 'I came here to play baseball, not to find a girlfriend.' Then a news report said, 'Kim Tae-kyun declares abstinence' (laughter)."
Kim went to Tadahito Iguchi, 36, a senior Marines player Kim admired, in a gesture of respect. Iguchi gave him words of goodwill, saying "It'd be good for you to lose some weight."
Sports dailies in Japan all said Kim is sweating hard after hearing advice from his coach Iguchi.
News reports also mentioned his weight, saying he has gained 10 kilograms to weigh 110 kilogram. This is not true, Kim said. "(I just told) Iguchi, 'I didn't run well in Korea as well,' and this was exaggerated by the media," he said.
The slugger has accepted these happenings just as keen attention to a foreign player, however. He said he will separate Japanese news reports from what he thinks of as Japanese culture.
"I'm not the kind of person who tends to follow what others ask. I've never gone on diet. If I think I need to lose weight, I'll do that myself, but now is not the time," he said.
"I'll lose weight naturally at training camp in Okinawa late this month. I weighed 108 kilograms early last season and as much as 116 kilograms toward the end of the season. I tend to eat more when I feel tired."
○ Getting accustomed to Japan
Kim said he has learned basic Japanese greetings, but his language skills are not good enough for free conversation. He is assisted by his translator Kim Yeong-rong, 24, who lives with him at his residence near Chiba, and his trainer Sohn Se-jin, 33.
"I live a convenient life here thanks to help from these two guys. Since we're not good cooks, we found a Korean restaurant nearby. I love meat, and I've also become a regular at a Japanese bulgogi restaurant," the player said.
He added private training is all he does in the morning while he stays home the rest of the time.
beetlez@donga.com