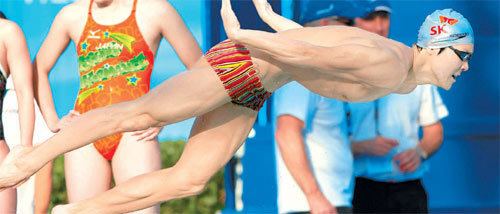 In the Beijing Olympics in August last year, Park Tae-hwan experienced the thrill of winning Korea's first swimming gold in the men's 400-meter freestyle. Competitor Zhang Lin of China burst into tears in finishing second.
Park consoled Zhang thinking that the Chinese failed to win a medal, but later learned Zhang was the winner of the silver medal. A year later, Zhang can avenge that loss.
Park, 20, will defend his world title in the 400-meter freestyle from tomorrow at the World Swimming Championships in Rome, having taken the crown in Melbourne two years ago. Zhang, 22, was Asia's best in the event until right before the 2006 Asian Games in Doha, Qatar, where he lost to Park.
Last year, Zhang trained in Australia under coach Dennis Cottrell, who taught long-distance specialist Grant Hackett, but he lost in the Olympics nevertheless. Zhang reportedly renewed a daily commitment to beat Park this time, looking at Park's picture posted in his room.
Zhang had a world-best time this season in the men's 400 meters at 3:42.63 in the Chinese national championships in April. His mark was short of Park's time of 3:41.86 at the Beijing Olympics, but is rapidly catching up. Zhang also ranks first this season in the 1,500-meter freestyle at 14:47.51.
In comparison, Park's best time in 400 meters was 3:50.27 this season set at the Janet Evans Invitational in the U.S. in May, placing him 44th in the world rankings this year. He also trails Zhang by nearly 10 seconds at 14:57.06 seconds in the 1,500-meter freestyle.
Park is banking on his turning and underwater swimming skills that he sharpened while training in the U.S.
He grew lazy in training after winning the gold in Doha, but won in Melbourne by recovering instantly after a two-month training session. He also won the Olympic gold last year thanks to a grueling five-month training.
Park will compete in the men's 400-meter freestyle that airs at 4:20 p.m. tomorrow Korean Standard Time on KBS 2.
yjongk@donga.com