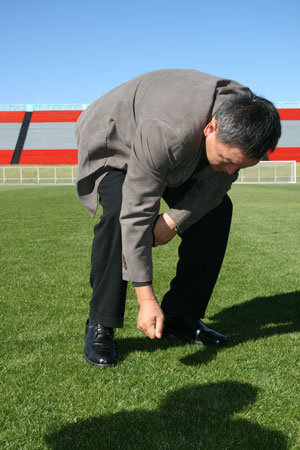 "I saw hope."
The head coach of the Korean national soccer team looked confident. Huh Jung-moo said he learned a lot while touring Rustenburg and Pretoria as part of his visit to his squad's training camp in South Africa, the host of next year's World Cup.
○ Taking advantage of the cold
South Africa is located in the Southern Hemisphere, so June is wintertime there. Evenings are chilly at an average of two degrees Celsius and days are cool at around 20 degrees.
Huh was meticulous in checking if the quarters for his players were well heated. "I need space where my players can fully concentrate on training and must ensure that they don't catch a cold due to the big differences in temperature," he said.
After checking a number of places in South Africa, he gave high marks to the quarters in Rustenburg, noting that the environment around Hunters' Rest Hotel was good. "Italy and the U.S. picked the Pretoria area as their most preferred training place, but I think Rustenburg is good enough," he said.
Huh still has Pretoria in mind, however, because of its good lodging and training facilities. Korea will make a final decision on its training camp in South Africa depending on the result of the December draw for World Cup groups.
○ Low oxygen level
Huh said his nose bled just three days after he arrived in Johannesburg. The low oxygen level fatigued him after he moved around the city, which is located 1,700 meters above sea level. "This is something I'd never learn without coming to this city," he said.
Six of the 10 World Cup stadiums in South Africa are situated at least 1,000 meters above sea level. Considering Korea's difficulty in a February qualifier at Iran's Azadi Stadium 1290 meters above sea level, Huh's team needs thorough measures to prepare.
At least a game or two in the group stage will be played above 1,000 meters, potentially leading to unexpected conditions that could affect the results. Spain's 2-0 upset loss to the U.S. and Brazil's 1-0 edging of South Africa in the Confederations Cup semifinals are attributable to the altitude effect.
"We've done a lot of research on high-altitude training for marathoners, but little data exists on soccer training at high altitudes. I will seek measures to cope with the situation in cooperation with the Korea Institute of Sport Science," Huh said.
The coach said the condition of the turf in South Africa was better than he expected. Despite his concern over turf, experts say the Korean team will likely adapt to the mixture of two kinds of turf selected by FIFA, soccer's world governing body.
yjongk@donga.com