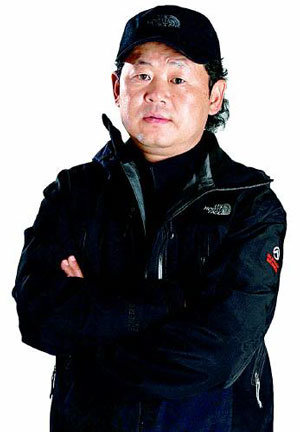 "Oftentimes it comes to memory. Underwear and climbing gear of colleagues who parted this life often pop out in a house we lived in together. When coming home with a sober mind, I often stay up until early the next morning. It's painful."
Champion mountain climber Park Young-seok, 46, often talks about two members of his expedition who died two years ago while scaling Mount Everest: Oh Hee-joon and Lee Hyeon-jo. Tears fill his eyes when he mentions them.
○ Two mountaineers in his heart
Oh and Lee were found dead 6,500 meters above sea level on the South West Face of Everest on May 16, 2007. Thirteen hours had passed since communication with them was cut off after they climbed Camp 4 (7,700 meters above sea level). Oh was 37 and Lee 35 at the time of their deaths.
They were swept away by an avalanche while taking a brief rest at a camp on a steep cliff. Falling 1,200 meters down with rocks, their bodies were found battered. Since they did not have both boots on, the avalanche apparently struck while they were rushing out of their tent.
Park was struck dumb at the gruesome scene. For him, the two were like family. They had lived in close proximity for more than 10 years in northern Seoul. "I spent more time with them than with my wife," Park said.
Nobody can be blamed for their deaths. They took a big risk by taking a route none had traveled before. Park said he still feels guilty, however.
"I have nothing to say as an excuse. I'm responsible for the accident because I was the leader of the expedition. A defeated commander has nothing to say," he said.
○ Boyhood dream of being an explorer
Born near Namsan in central Seoul, Park scaled his first mountain at age four.
Led by his father, who had a penchant for mountain climbing, Park reached the peak of Mount Bukhan. He would then climb mountains whenever he had time to spare. The only compliment he got from his parents was on his ability to climb mountains or trees.
"When I was a schoolboy, my father bought me a complete set of books about traveling around the world. I was engrossed in stories where an Eskimo rides a dogsled and an explorer wanders in a jungle. I read the books until high school," he said.
Park's boyhood idol was the late Goh Sang-don, the first Korean to conquer Everest in 1977. While his peers put cartoon characters on textbook covers, his choice was Goh's pictures.
"He was my hero. The picture of Goh in spacesuit-looking attire standing in a snow-covered mountain looked really gorgeous," Park said with a smile.
Another fond memory was Goh's appearance in a motorcade in front of Seoul City Hall in 1980, when Park was a high school junior.
"In a politically very sensitive time, a group of people were in motorcade. As soon as I saw him in the midst of all the people, I felt my heart flutter. 'There it is. I should enter Dongguk University,' I thought," Park said.
Though his scholastic ability was far from excellent at that time, he did everything possible to enter the university. After taking the college entrance exam again, he was finally admitted to the physical education department at Dongguk in 1983.
He then joined the university's mountain climbing club.
In 2005, Park became the world's first to achieve a true Adventure Grand Slam (scaling 14 mountains of the Himalayas, the highest mountains on the seven continents including Everest, and visiting the North and South Pole).
"I still wonder whether I really completed the mountain grand slam. When you climb above 8,000 meters, the shadow of death follows you. A slew of colleagues died. I've been a lucky guy," he said.
Park said he wants to keep climbing mountains until age 50. Being active means a challenge to the top, he added. Afterwards, he wants to captain an expedition team at a base camp. He was offered a professorship several times, but declined, saying, "It doesn't sit well with me."
"I will climb mountains at age 60 or 70. But I don't want to find myself at the top of a mountain with gray hair. I'd like to see young mountaineers climbing a mountain at a base camp," he said.
○ A survivor's duty
Park will embark on another expedition for the South West Face of Everest today. He will again try the route where he lost his two colleagues.
Conquering Everest requires more than strong determination. It needs hundreds of thousands of dollars as well. An advance team has left but he has yet to raise the required expenses. The economic crisis had dealt a blow to his expedition as businesses are cutting costs. To make up for the shortfall, he has put his rental apartment on the market.
"Lack of funds cannot deter us from going on an expedition. I will take all necessary measures to raise money. If I fail to do so, I will ask for help from my friends in Nepal," he said.
Park always says, "I will take the plunge even if there's only a one percent chance of success."
"I expect falling rocks, avalanches and crevasses to stand in the way. I've become used to freezing temperatures of minus 40 to 50 degrees Celsius."
"I fear myself the most, however. The most difficult time for me is when I feel like giving up," he said.
It seems the expedition expenses weigh more heavily on him than the steep cliffs of the Himalayas.
"When I think of Hee-joon and Hyeon-jo, I cannot give up," he said, adding this expedition is a tribute to his two late colleagues. Park will climb the mountain with their pictures in his bosom.
"We are climbing with them," he said.
His wife and 14-year-old son who live in New Zealand are another motivational factor.
"My life is a life of challenge. If I stop challenging myself, I will cease to live. For my colleagues and my son, I want to remain a person who never gives up," he said.
Though he has conquered the world's most challenging mountains, it seems more mountains await him down the road. That is life, as he puts it.
hic@donga.com