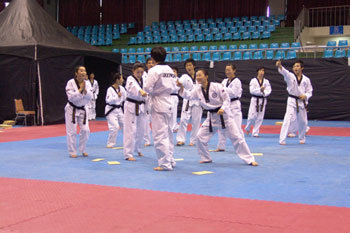 A couple on a date encounters a crowd of guys. The man helplessly kneels down in front of the bad men after being violently kicked and beaten by them.
Afterwards, the man visits a taekwondo training center. He practices hard and finally masters the martial art with the help of his teacher and colleagues, and gets revenge.
This is not a film plot but a demonstration staged at the World Taekwondo Federation headquarters in downtown Seoul. The combination of the Korean martial art and a musical has brought on a new type of fusion martial art.
A one-hour performance of taekwondo was staged yesterday at the headquarters, also called Kukkiwon. The musical-style performance was directed and prepared by the comedian-turn-musical director Baek Jae-hyeon, and began November last year. Just ahead of the performance, he expressed nervousness and anxiety, but his worries proved unfounded.
It was a huge success. Throughout the performance, applause and cheers broke out from the audience as they watched the kicks and techniques of taekwondo coupled with magnificent music. No mistake was made and the musical proceeded smoothly and kept the audience occupied with exciting action.
A woman who said it was her first experience to watch the taekwondo performance said, "I`ve seen many other performances but this was the first time I felt so excited that I felt sweat on my hands. I first thought I`d get bored after watching 10 minutes of the show, but I was wrong."
Divided into three parts, the performance focused on maintaining the dramatic tension by combining energetic action with a musical story. "I practiced hard when I first joined the performance." said Kim Jae-seung, 28, who played the main character.
"Back then, I felt confused and didn't realize the director's intent. Now I feel greatly satisfied as I saw the audience's excited responses and cheers."
Many seats did remain vacant, however. The head of the administrative office at the taekwondo headquarters, Lee Geun-chang, said, "We need attention and love from the public to make taekwondo a global martial art. When state support and public affection are connected with quality performances, taekwondo will be loved by all people across the globe."
niceshin@donga.com