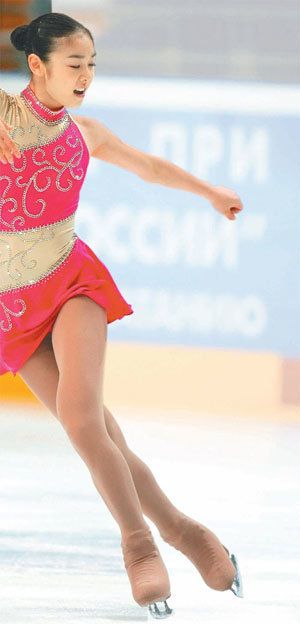 Korean figure skating sensation Kim Yu-na (17, Gunpo Suri High School) is rewriting the history of her sport.
Kim set a record score in the free skate competition with 133 points to take home the Russian Cup in the fifth 2007-2008 Grand Prix at the Khodynka Ice Palace in Moscow yesterday. She won the Cup with a total of 197.20 points, including the 63.50 she received in the short program the day before. 197.20 is Kim Yu-na's best aggregate score ever.
In March, Kim received a short program record score of 71.95 in the Tokyo Figure Skating Championships, and now is the record holder in both short program and free skating scores.
This free skating highest record has especially important implications. This season, the scoring regulations have been strengthened substantially, which is why most players have had difficulties matching their personal best scores. Despite these circumstances, Kim set a new record. Although her world ranking is second, trailing behind rival Asada Mao of Japan, this record is as good as 'proclaiming' her the current world champion.
Kim Yu-na won her consecutive Grand Prix event after winning her third China Cup, and has confirmed her place in the Grand Prix Final held 13 December in Torino, Italy. The Grand Prix Final is the tournament in which only the top six skaters of the series compete. Kim won the event last year.
Kim is aiming for a consecutive Grand Prix Final victory, along with a dream score of 200. Ever since the scoring regulations changed in 2004, no player in the current scoring system has scored over 200. The current highest record is Asada's 199.52, which she received in the 2006 NHK Trophy series.
Nevertheless, Asada performed twice this season in which she received scores lower than 180. This is why analysts feel Kim is the more likely skater to potentially challenge the 200-point mark.
Figure skating is evaluated by a combination of techniques, and the reason why Kim receives high marks is because judges give her bonus points. Kim Yu-na can be called the "queen of added points.' It means that although Kim will perform a standard triple toe loop, she gets bonus points for accuracy of technique, jumping height, and her airborne posture.
kimsk@donga.com