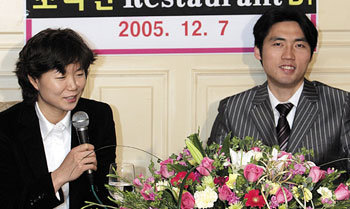 They're not yet married, but if you just look at their eyes, you know they can read each other's minds.
They have matched each other's rhythms on the court for almost 10 years, so it makes sense. The happiness expressed on their faces overflows as they gently hold hands.
They are Korea's star badminton couple Kim Dong-mun (30, Samsung Electronics) and Na Kyung-min (29, Daekyo Noonnoppi).
This reporter met the couple, who will be married this Christmas, at a restaurant in Seoul on December 7. Instead of the training suits emblazoned with the Korean flag that they normally wear, Kim Dong-mun and Na Kyung-min, wearing smart dress suits, spoke frankly about their "secret date" and finalizing details about the wedding.
The moment of when they became lovers from the Korean representative teammates was most curious. Na first opens up the door on the topic, saying, "It's been about three years since we have genuinely been involved," and Kim added, laughing, "It's been two years since we've been dating but there was one year when I think it wasn't me she was dating." Then they both said, "After the Asia tournament in 2002 in Busan is when we fell in love."
The pair developed into lovers as they relied closely on each other while exhausted in body and mind.
The couple, who said they shared their first kiss in June of 2003, set their decision to marry in stone last year right after the Olympics ended in Athens. Kim said, "I regretted not winning the gold medal with Kyung-min, but I won the gold in men's and Kyung-min won the bronze in women's, so I proposed." Na shyly explained the situation that took place then: "He called me out to a bench in the square of the Olympic athlete's village and started talking about marriage."
Na's role in setting the wedding date on December 25 was big. Na, who was heartbroken when she received the news that Kim would be leaving for Canada next January for language study, called after drinking and presented the ultimatum last month: "Either you leave after we get married, or you leave after we end our relationship."
Now that they don't have to meet secretly, with chests thumping, in the theater or the restaurant, the happy couple laughs brightly. "We know we'll run into many problems when we live together, but we intend to live in consideration and conciliation with one another," they said.
Jong-Seok Kim kjs0123@donga.com