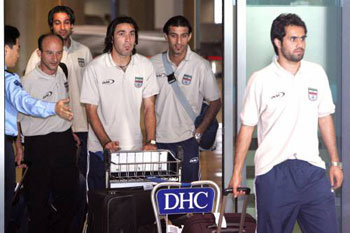 The fate of the Korean soccer team lies in the hands of coach Dick Advocaat. The question now is: how will he pass his first test?
The team's first competitor for a berth in the 2006 Germany World Cup, the Iranian national team, arrived in Korea earlier this month.
The first comment out of Iran's Croatian coach Branko Ivankovic on the game? "We're ready to win."
The Iranian team that Korea will butt heads with on October 12 at Seoul World Cup Stadium ranks 18th on the FIFA list, higher than Korea's 26th ranking. Add to this "Tehran magician" Ali Karimi (Bayern Munich), as well as Vahid Hashemian (Hanover), Moharam Navidikia (Bochum), four Bundesliga veterans who make up Asia's dream team.
Karimi is the pillar of Iranian soccer, following in the steps of the "enemy of Korean soccer," Ali Daei (36). With a record head trick at the Asian Soccer Cup quarterfinals, he brought Korea to its knees last year. He's also a pending candidate for the Asian Football Confederation (AFC) Player of the Year, along with Park Ji-sung (Manchester United).
Although Daei was excluded due to a sustained injury for Mehdi Mahdavikia in Hamburg, Iran is a rare Asian team which plays on the European soccer level with power and speed, creating a strong organization that will prove hardy competition for Korea.
With seven wins, three ties, and seven losses between them, Korea is currently ahead in the series with two wins and one loss in the past six years, but in July 2004, Korea lost, 3-4 to Iran in the Asian Soccer Cup quarterfinals.
"Along with Iran and Japan, Korea is Asia's strongest team," Ivankovic said. "But we're always confident. Although some are injured, we're ready to win."
Jong-Koo Yang yjongk@donga.com