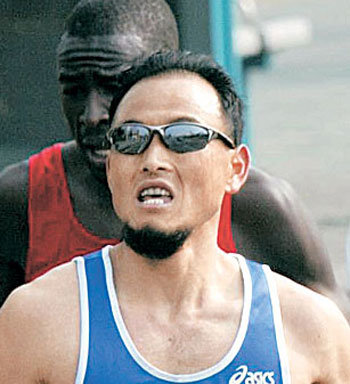 Lee, Bong-ju, nicknamed "Bongdari" (35, Samsung Electronics, Photo), is bracing himself for a full course marathon in 13 months after working hard on his speed, which has been pointed out as his weakness.
The Samsung Electronics Athletics Club announced on August 31 that the marathoner will run at the 32nd Berlin Marathon which will be held on September 25 in Germany.
He comes back to a full course marathon after he finished 14th with a time of 2 hours 15 minutes and 33 seconds on the so-called 'classic course of death' in the Athens Olympics in August last year. This will be his 34th full course marathon since the 1990 national sports competition, and will be 33rd for completing full courses. He gave up only once in the Edmonton 2001 World Championships.
Since the Athens Olympics last year when he realized his problem with speed, he has been working on improving his speed by running medium and long tracks. He shortened his 5,000m record by 8 seconds and broke his 10,000m record in 10 years at the championships in Awajishima, Japan and the golden game. As a result, he has enhanced his speed competitiveness. All he can do now is showing his improved speed and doing his best in Berlin.
His goal is to break the Korean record (2 hours, 7 minutes, 20 seconds) he set at the 2000 Tokyo Marathon. But given that he is not in perfect condition, he aims to finish in at least at 2 hours, 8-9 minutes.
Oh In-hwan, the coach of the Samsung Electronics marathon team, said, "Berlin will offer one of the world's most even courses. And while he worked hard to improve his speed, he kept this course in mind. So we're confident that he will come back with a great record."
The marathoner showed his strong commitment, saying, "I'll do my utmost in this race, in part to help revive the spirit of Korean marathon running, which has remained sluggish after the World Championships in Helsinki." He is scheduled to leave the country for the marathon on September 16 after a practice in Boryuong, Chungcheongnam-do beginning on September 5.
Jae-Yun Jung jaeyuna@donga.com