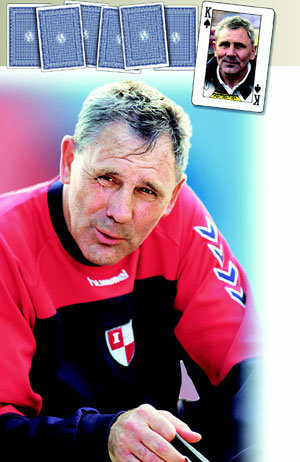 Looking Beyond the 2006 World Cup Germany-
Korean soccer is in a crisis these days, and the source of the crisis comes from the national team. However, soccer experts, including Korean Football Association (KFA) officials, agree that although preparing for the World Cup is important, a more imperative matter is preparing long-term measures for the development of Korean soccer.
Thus, the answer is that we need a leader who can not only coach the team most efficiently in the World Cup that is only nine months away, but also lead the team afterwards.
Ian Porterfield has risen to the surface as a strong candidate for the position. Since he has thorough knowledge of European soccer and has experienced Korean soccer for three years, he may be the best card, and will also end the controversy over whether to appoint a foreigner or a domestic coach.
Why Porterfield?-
Porterfield led prestigious English football clubs such as Chelsea and Bolton, and has coached national teams in Zambia, Zimbabwe, Oman, and Trinidad and Tobago. In 1993 he led Zambia to the finals in the African Nations Cup, and taking the leadership of Trinidad and Tobago from 1999 until 2000, he led the team to 20 wins, six draws and seven losses in 33 A-matches, bringing up the team's FIFA ranking up from 50 to 24.
In late 2002, he came to Busan I'Park, a team that was then in danger of dismantlement due to financial difficulties, and mixing English and Korean soccer, he has led the team to the championship in the 2004 FA Cup and the first stage of the 2005 K-League.
The fact that Porterfield is a close acquaintance of Manchester United's Alex Ferguson also appeals to the KFA. The KFA is aiming to use his ties with Alex Ferguson to send Korean players to the European big leagues. Recently, Ferguson has been reported to have asked Porterfield about Park Joo-young (FC Seoul).
A K-League Success Story-
Porterfield is well known for appointing players based on their abilities. He keeps track of players' physical examinations and training sessions, and those who are not in good condition are left on the bench. Even the most famous star on the team gets the same winning bonus as his teammates. Therefore, all players are thorough in their self-management. Busan's championship was not just a given.
Jong-Koo Yang yjongk@donga.com