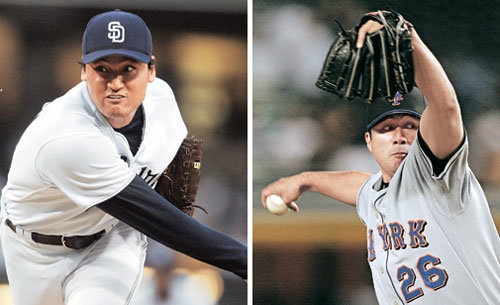 It was a good day for three Korean starting pitchers in Major League baseball.
It was a bit past 11:00 a.m. on August 25 (Korean time) when the "eldest brother" Park Chan-ho (32, San Diego), Seo Jae-ung (28, New York Mets) and Kim Byung-hyun (26, Colorado) took the mound in a row as starters.
Fine pitch after fine pitch, all three overwhelmed the hitters opposing them. Park Chan-ho achieved his 11th victory in the match against Houston, and Seo Jae-ung easily won his sixth victory in his game against Arizona. In his game against the Los Angeles Dodgers, Kim Byung-hyun failed to get the victory, but displayed good pitching form, throwing scoreless ball over six and 2/3 innings. The outcome of Kim's first showdown against his high school junior Choi Hee-seop was two bases-on-balls and one ground ball out. It is the second time since April 30 of last year that four Korean big leaguers have started together.
Park Chan-ho-
At a time when rumor had it that he might be excluded from the starting rotation, Park Chan-ho proved that he was a veteran player. Recording five hits, two bases-on-balls and two runs (one earned) over five innings, he has been on an upward trend of three wins and one loss since his trade to San Diego. His earned run average (ERA) dropped from 6.07 to 5.91.
Park Chan-ho was replaced by pinch hitter Mark Sweeney in the late fifth inning, with the two teams confronting each other 2-2, but he qualified as the winning pitcher as the San Diego batters scored three times in that inning. One disappointing point is that San Diego, which is making every effort to make it to the playoffs, chose to replace Park though he threw only 70 pitches.
Seo Jae-ung-
Not only his pitching but also his hitting was on. Living up to his nickname, "Control Artist," Seo Jae-ung's sharp control of the ball, aiming in and out of hitters, was brilliant.
With the record of four sporadic hits and no runs allowed until the sixth inning, Seo Jae-ung saw his ERA fall to 0.98. Possibly due to the score of 17-0 in the match, however, he lost two points in the seventh inning, slightly raising his ERA from the previous 1.09 to 1.30.
As a hitter, Seo Jae-ung also played an active part, blasting a double over the right fielder in the third inning and recording two at-bats, one hit, two runs-batted-in and one base-on-balls.
Kim Byung-hyun-
Kim Byung-hyun did not allow a hit until Jose Cruz Jr. hit a double to right field with one out and one on in the fifth inning. Even with one out and runners on second and third base, he struck out the next hitter, D.J. Houlton, and got Oscar Robles out with a fly ball to the right fielder.
Kim pitched well, allowing three hits, five bases-on-balls, five strikeouts and no runs over six and 2/3 innings. Colorado, which had continued its parade of no wins, defeated the Dodgers by one point, scoring twice in the eighth inning after Kim Byung-hyun's departure. Choi Hee-seop, who appeared in the game for the Dodgers, recorded three at-bats, no hits, and two walks from Kim Byung-hyun.
uni@donga.com