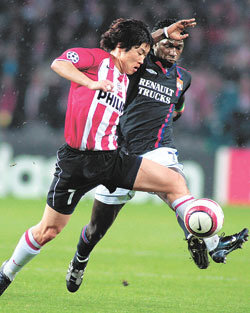 In the Netherlands, the word of soccer legend Johann Cruijf (58) is law. At the quarterfinals of the UEFA Champions League held on April 14, he stated after PSV Eindhoven defeated Lyon and proceed to the semifinals that "we should observe Park Ji-sung's play closely." The usually laconic soccer superstar had taken the unusual step of praising Park Ji-sung.
"Taegeuk warrior," Park Ji-sung, enjoys huge popularity in the Netherlands. The Dutch media is putting up heat in broadcasting his activities. One newspaper stated, "We respect Park Ji-sung for playing despite injuries during the match against Lyon." Letters praising Park Ji-sung, such as "I have never seen such a passionate player in the history of the Netherlands League," are being posted on various Internet bulletin boards.
On the ground, when Park gets a hold of the ball, a chant of: "Weesung Park, (the Dutch pronunciation of Park`s name) Arererere…" begins. For the upcoming semifinal against Italy`s AC Milan on April 27, the 3,000 away game tickets set aside for Eindhoven that went on sale on April 16 were sold out within nine minutes, reflecting this popularity.
Soccer fans tend to be fickle, but it is amazing to see how different their attitude is compared to last year. Fans who had complained about Park Ji-sung's acceptance by the team when he was suffering from injuries and failing to adjust to the Netherlands League, are now making him into a hero.
Behind Park Ji-sung's growth stands the "great commander," Guus Hiddink. Even when players, including team captain Mark van Bommel, complained about "bringing in obscure Asian players," and fans ridiculed the decision, Hiddink always supported Park Ji-sung. The number one factor in Park Ji-sung's success is his tireless strength and fighting spirit, but Hiddink's trust also played a huge role.
These days, now that Park Ji-sung is a star, Hiddink says, "Park Ji-sung played a big role in this victory," before the reporters even ask. This is probably because he was his favorite pupil during the 2002 World Cup when they made their legendary World Cup semi-final run together.
It is not easy for a Korean player to make it in the big leagues, not only because of skills, but also because of the suspicion they are subject to as foreigners. We expect Park Ji-sung to make it in the big leagues, though, with the support of Hiddink.