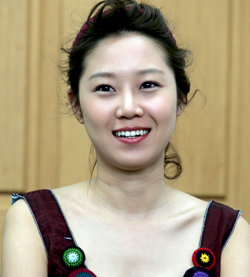 "You can put away the image of the cold, steel-like actress Gong Hyo-jin. I will not be holding back anything with my comical side that I have kept inside me for so long."
TV Talent Gong Hyo-jin (26) is turning into a school teacher that takes charge in the town alleyways. She will be featured in SBS's new mini-series "The Hardtack Teacher and Sugar Candies" for Wednesdays and Thursdays as impulsive high school teacher "Na Bo-ri." It's her first TV series after 20 months since "Let's Go To School, Sangdoo," a KBS mini-series that aired in 2003.
She played the role of a school teacher, "Chae Eun-hwan," in "Sangdoo," too. Counting "Memento Mori: the Second Ghostly High School Tale" and "No Manners," in which she was featured as a high school student, she seems to have a deep affinity with schools.
"If Chae Eun-hwan in Sangdoo was a teacher trapped in a certain set of rules, 'Na Bo-ri' is a hotheaded teacher, who will run around and take over the alleyways of her town. She would go out of control at times, but she keeps her hopes and dreams alive."
Na Bo-ri was a town legend in her high school days as the "Boss." But she's different from any other so-called "Bosses" of the neighborhood. She accidentally "pacifies" all the "fighters" of top-level school gangs when the alleyway wall collapses on them just before they beat her witless. So she becomes the "Boss" by luck, rather than for her "combat skills."
"The Hardtack Teacher and Sugar Candies" is a drama that will comically roll out a number of episodes at a high school to depict issues like teacher-student relationships and school violence. Na Bo-ri, who was kicked out of high school, decides to become a teacher because she could not forget the "pretty boy" art teacher she loved. However, the journey to becoming a teacher, fresh out of a college in a provincial town, is long and hard. But by a stroke of luck, she becomes a temporary language teacher under the condition of keeping an eye on Park Tae-in, a good-for-nothing son of a chairman at her home school, Jung-seok High School. The Gongs have come together for the show.
"I wouldn't be surprised if Mr. Gong Yu and I share the same DNA. Even the family origin (Gokbu Gong) is the same, and we seem to have a similar sense of humor. I'm afraid that this might stir up a scandal."
Gong Hyo-jin will be doing her own stunts, only befitting for her role of a teacher with a reputation of being the "legendary fighting champion." She does not spare an ounce of strength when filming scenes where she has to scramble in midair on a rope or fight with a pole.
"My body is well built for fighting. It toughened up hanging around boys in my high school days I spent in Australia. Don't you agree that my life-like fighting action is one of the finest around?"
bsism@donga.com