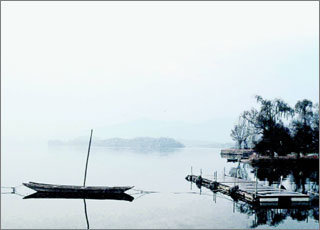 It's really spring! The weather is fair and people feel like taking a trip somewhere.
Traveling to a faraway place is too much but simply driving is too boring. Is there any place nearby where people can combine the joys of the outdoors with a taste of the arts?
Let's go to Yangpyeong if you want to enjoy the outdoors, music, and paintings. There are spots where people can spend a day appreciating paintings and sculptures and listening to classical music. We went on an arts tour across Yangpyeong and Gapyeong under the guide of Sohn Gap-hwan (41), the coordinator of Doctor Park's Collection & Gallery.
Havens for Artists Nestled in Beautiful Heaven-Sent Scenery—
The ateliers and galleries (spaces where people can enjoy exhibitions while having teas and meals) of artists are densely located across Gangsang-myeon and Gangha-myeon in Yangpyeong-gun and Oeseo-myeon in Gapyeong-gun, Gyeonggi-do.
In particular, at Gangsang-myeon and Gangha-myeon in Yangpyeong-gun, people can revel in the friendliness of the nature rivaling that of Barbizon in France, where Millet lived.
According to the director Son who is operating arts tours in Yangpyeong, around 280 painters such as oil painter Choi Seok-un and sculptor Lee Jae-hyo have settled down here since popular artist Min Jeong-ki moved to the area in 1988.
Most artists open their workshops for tours so that ordinary people can visit the place. But people are not allowed to go to these places individually. Those who want to come by should make a reservation through Son (011-442-0906) ten to seven days ahead of their projected visit, and take part in group tours. The number of people per group is usually around 20, and the price of a one-day tour (10 A.M to 5P.M) is from 20,000 to 30,000, while the cost of a course for one night and two days is around 50,000 won. (Meals are included in the prices.)
People can hear a wide variety of stories related to the area, including explanations from director Son, who is a painter and majored in art management, about the schools of paintings and ways to appreciate them.
The course contains a visit to ateliers, galleries, and music concerts, and people can add other courses such as stopping by workshops and galleries that they are especially interested in, at request.
Galleries at Yangpyeong and Gapyeong provide people with a chance to get firsthand experience in making glass and ceramic wares, and visitors can make and keep their own art works if they pay an extra fee.
It is an erroneous assumption if people think that galleries have only art works. At some places such as Agio and Gail Art Gallery, mini concerts, recitals, and ensembles are often held by classical musicians.
Galleries like Jewels on the Riverside—
Agio (galleryagio.co.kr), which boasts a unique modern-style building with its white walls, is a place where people can enjoy not only a cup of tea but also exhibitions and music.
The pavilion will hold a "Glass Making" exhibition from April 9 to May 5 and a café will host a music concert at noon during the third week each month. In a glass art room on the second floor, anyone can try their hand at making various kinds of glasswares. (Fee: 10,000 won)
Monticello Gallery (031-774-9301), exclusively dedicated to the ceramic arts, is a small paradise hidden in a forest. The gallery is located in a small forest, 50 meters along a trail that branches out from the road. Visitors can have an opportunity to personally make ceramic wares and there is a restaurant on the second floor. The panoramic roadside scenery captivates the visitors seated on the second floor. The view is invisible from the first floor.
The Batangol Arts Center (batangol.com) is the biggest gallery in the Yangpyeong area and has the widest range of things to do and see.
The Batangol Gallery, which hosted an opening performance of "Phaedra" starring the famous actress Park Jeong-ja in 1999, still hosts a wide variety of plays, concerts, and animated films on every weekend. The pavilion of the gallery will hold exhibitions entitled "Coming Soon" and "Memories of Pawnshops."
The Gail Art (gailart.co.kr) is another good place to have fun with arts and music.
Kang Geon-guk, an architect and curator, personally designed and built the gallery. A night-time music festival takes place on the spacious outdoor terrace, next to a river.
Works of various genres under the theme of "Father" will be displayed at the gallery until May 17 and poem recitals and small music concerts by soprano, Kim Su-jeong and oboist Yang Seung-jin, under the same theme, will be held on April 15.
There is one more must-see place, though it's not a gallery.
This is a natural-food serving restaurant, Ongwhasanbang (www.ongwha.com). People can eat unusual Korean foods at Ongwhasanbang, which is located on the road (local route No.88) to Monticello from Agio.
Ongwhasanbang shows off its exceptional cooking, made of various kinds of vegetables, such as dandelion, aconogonum polymorphum and mugwort. In addition, the serving staff explains the ingredients and efficacy of the foods right at the customers' tables during the meal.
Chin-Ku Lee sys1201@donga.com