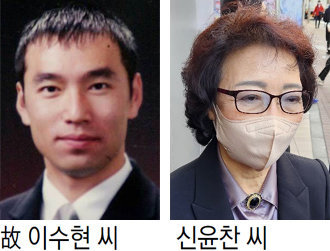 "During his lifetime, Su-hyeon advocated that Korea and Japan should not dwell excessively on their past, as it would harm both nations. Instead, he advocated for fostering closer relations. Looking back, it was his will."
In a telephone interview with The Dong-A Ilbo on January 26, 2001, Shin Yoon-chan (73, photo), the mother of the late Lee Su-hyeon (27 at the time), who tragically lost his life while attempting to rescue a Japanese man who had fallen onto the tracks at Shin-Okubo Station in Tokyo, Japan, shared her thoughts on the Korea-Japan summit. Her son's selfless heroism had become a symbol of friendship between the two nations. "He would think that the summit is shining a light on improving Korea-Japan relations," she said.
Lee's grandfather was a victim of forced labor who was taken to a coal mine in Japan during the Japanese colonial era. For this reason, Shin looked at the frozen relations between Korea and Japan over the issue of compensation for forced labor with mixed feelings for the past few years.
"I had talked about this with my late husband, but I hope that we could resolve this issue of compensation within our generation and future generations would be comfortable," she said.
"Thanks to my son, I had the opportunity to meet many people in both countries, and I strongly felt that Korea and Japan are countries that cannot be separated," the mother said. "Despite our painful past, we can build a closer relationship and move forward together."
At Shin-Okubo Station, a bronze plaque commemorating Lee's noble sacrifice is engraved on the wall. Shin visited here for a memorial service for her son in January for the first time in three years. "Local shops in Koreatown would have been having difficulties, and I was happy to see them bustling with crowds as if I was making money," she said.
sanghun@donga.com