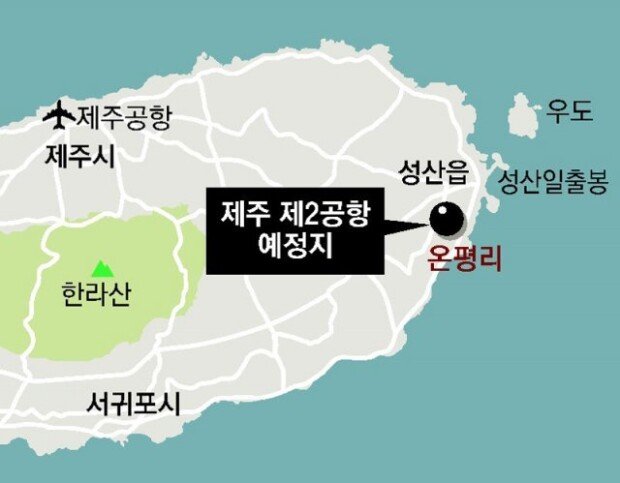 The Ministry of Environment has "conditionally agreed" to a strategic environmental impact assessment for constructing the second airport on Jeju island. The construction is expected to start as early as 2025 and be completed by 2030.
On Monday, the Ministry of Environment approved a plan to construct a new airport on Jeju Island after reviewing a strategic environmental impact assessment submitted by the Ministry of Land, Infrastructure, and Transport. However, the approval comes with certain conditions. "The feasibility of the site location and appropriateness of the plan were approved with some conditions after a review by a professional institution," explained the Ministry of Environment. Once the two ministries complete their relevant discussions, the Ministry of Land, Infrastructure and Transport will incorporate the feedback into the basic plan for the second Jeju airport and seek input from Jeju residents.
The project entails the construction of a new airport on the eastern end of Jeju Island in Seongsan, Seogwipo. The airport will cover an area of approximately 5.5 square kilometers (550 hectares) and feature a 3.2-kilometer long runway, 1.5 times larger than the existing Jeju airport. The second airport will be near popular tourist destinations in the western part of Jeju, such as Seongsan Ilchulbong and Seopjikoji.
The plan for the airport project was first proposed in 2015 by the Ministry of Land, Infrastructure, and Transport, which included the planned site location. It was one of the plans promoted by current Land Minister Won Hee-ryong, when he was serving as Jeju governor. However, it was rejected due to insufficient data from the strategic environmental assessment.
After being halted for eight years, the project will resume with the ministry's submitting a strategic environmental evaluation assessment in January. It is expected to gain momentum as it has received consent from the Environment Ministry.
yeah@donga.com · bless@donga.com