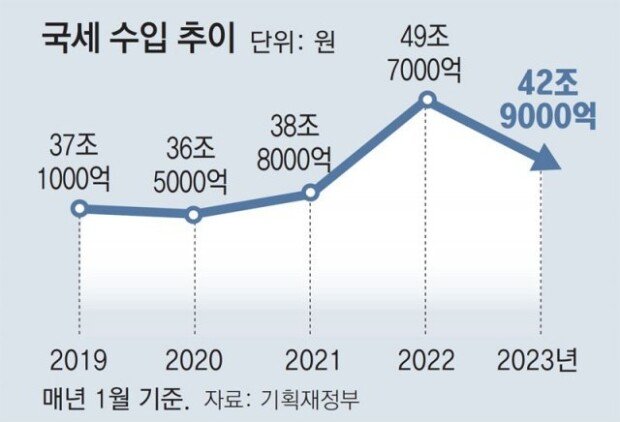 In January, the amount of national tax collected was reduced by nearly 7 trillion won compared to a year ago due to the economic slowdown. The national tax revenue collection rate saw the largest decline in 18 years, with the largest decrease year-over-year. Concerns are growing that tax revenue deficit may come to pass with the domestic economy slowing down.
According to the Ministry of Economy and Finance on Wednesday, national tax revenue in January was tallied at 42.9 trillion won, a decrease of 6.8 trillion won from a year ago, which is the largest monthly fall on record for January. Even considering the base effect created by a large amount of delinquent tax revenue collected in January 2022 due to the COVID-19 pandemic, the national tax revenue in January 2023 decreased by 1.5 trillion won.
The tax revenue collection rate, which is the ratio of tax collected to the target amount of tax collected, was 10.7 percent, marking the lowest since January 2005 (10.5 percent). It is still 1.8 percentage points lower than the average tax collection rate in the past five years. Except for the liquor tax and comprehensive real estate holding tax, the tax collection rate of all tax items hovered below the average rate in the past five years.
"Unlike 2021 and 2022, tax revenue is extremely tight," said Jeong Chung-hoon, director general for Tax Policy Coordination at the ministry. "Tax revenue will continue to be insufficient throughout the first quarter."
Hee-Chang Park ramblas@donga.com