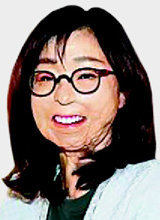 Handong Global University Professor Lee Ji-seon (age 45), who is also known as "Preacher of Hope" after recovering from whole severe body burns, will begin teaching at Ewha Womans University, her alma mater, which she had to leave due to the accident which inflicted her the severe burn.
Lee, currently a professor at the Handong University Department of Counseling Psychology and Social Welfare, wrote on her Facebook post on February 23 that she will start working as a professor of social welfare at Ewha Womans University as of March 1. She added that she came back as a professor 23 years after she had to leave school at the age of 23 and that she feels grateful for being given the delightful honor of teaching at her alma mater.
In July 2000 when she was a senior majoring in early childhood education, Lee suffered severe burns over 55% of her whole body from a rear-end collision caused by a drunk driver that involved as many as seven cars. She was going home from the university library after finishing her studies. She had to go through massive operations and surgeries more than 30 times and barely survived but was left with severe facial deformation and Class-1 physical disability. However, she never gave up, won her doctor's degree in social welfare at UCLA, and has taught at Handong Global University since 2017.
She is also the author of the best-seller, "I Love You, Ji-seon," an autobiographical essay published in 2010. In her interview with The Dong-A Ilbo, she said she feels extremely grateful and delighted that she could return to her alma mater and that she will do her best in teaching and research work.
cms@donga.com