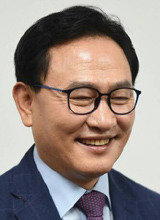 "With the national will and determination, I believe that we can build a 4000-ton nuclear-powered submarine by 2020," said Moon Geun-sik (Korean Naval Academy, Class of 1977, Chief Coordinator of External Affairs at Korea Defense and Security Forum, pictured) on Monday. "The development of submarine-launched ballistic missiles (SLBM) by the North has shifted the paradigm of North Korea's nuclear threats entirely," said the Navy colonel, who took part in a nuclear-submarine building project called the "362 Project" under the Roh Moo-hyun administration.
As the chief director of the 362 Project, Moon explained why the project fell through in 2003. The project name "362" came from the date June 2 of 2003, when the project was sanctioned by President Roh. The project came to an abrupt halt in 2003, however, after North Korea broke away from the Non-Proliferation Treaty, when an IAEA inspection found that a research institute in Korea had extracted 0.2 grams of uranium in an academic experiment.
"The experiment had nothing to do with the 362 Project, but controversial suspicion arose over South Korea's ambition for nuclear weapons. As some within the military claimed other options rather than nuclear submarines, the project fizzled out," explained Moon. The colonel was discharged from his military duty in 2012 after working for 22 years in the field of submarines out of his 32 years of military career. Had the project not been suspended, South Korea would have been more properly equipped to deal with the threat of North Korean SLBMs.
Moon emphasized the need to pursue nuclear submarines again amidst the nuclear threats from North Korea. He stressed that in terms of technology and institution, there is no big issue for South Korea to build nuclear submarines. He further explained that uranium enriched up to 20 percent is an international commodity traded by countries, and it is not against the regulations of the Nuclear Nonproliferation Treaty, which bans fabrication of nuclear weapons.
"To make enriched uranium at the level of 20 percent or less weapons-grade (more than 90 percent of concentration) will require separate facilities for reprocessing and enrichment, but South Korea does not have such (weaponizing) facilities," the former Navy colonel said. "We have a clear cause and logic that we are building nuclear submarines to counter the threat from the North, complying with the principle of denuclearization at the same time."
He argued that South Korea has the necessary technology to import uranium enriched up to 20 percent or less and process it for the smart reactors in a nuclear-powered submarine. He said the military should expedite the second round of the Jang Bogo III project, in which the Korean Navy plans to introduce three submarines, each with two-year intervals starting in 2025, and push for it as a national project to advance the deployment of nuclear-powered submarines.
Some argue that possessing several diesel-powered submarines will be more economically efficient, citing the enormous price of a nuclear submarine, which costs more than 890 million dollars for each. Moon dismissed such a claim as "nonsense," citing his experiences as a commander of submarine squadron. He says it is crucial to monitor North Korean submarines armed with ballistic missiles 24 hours a day, prevent them from firing the gun (SLBM), and contain enemy ports in case of emergency, and those are beyond the capacities of diesel-powered submarines. "Nuclear submarines can move three times faster under water compared to conventional submarines, and they can stay under water almost for an infinite span of time. In this case, quantity cannot compensate for quality," he said.
"When the nuclear threat from North Korea is growing ever more extreme, there is no reason for the U.S. to oppose the idea of South Korea's possessing nuclear submarines," Moon said. "We cannot afford to get swayed by the neighboring countries or worry about opposition from them. It is imperative that we build a national consensus to secure the military strength optimized for staving off the threat from North Korea's SLBMs."
윤상호군사전문기자 ysh1005@donga.com