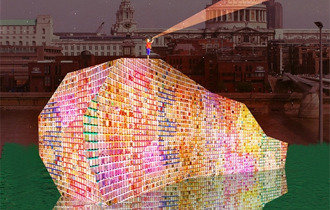 A large lantern made of Hanji, Korean traditional paper, will be set up in September on the Thames in London in the U.K. The lantern, which is like a small island with the height of a five story building (around 15 meters high), will be decorated with small paintings of thousands of children on the outside. On the top of the lantern, a miniature of a child who holds a lantern emitting light will be installed. The lantern in the hand will move and write a word in the sky of London: 꿈 (a dream in Korean).
Kang Ik-joong (photo), globally renowned Korean-American installation artist who is called the second "Baek Nam-june," first introduced the bird's-eye view of "Floating Dream" to the Dong-A Ilbo. The 55-year-old artist's work will be introduced to Totally Thames Festival in the U.K., one of major global outdoor festivals in the world. Kang was invited as a main exhibition artist for the festival, which hosts around 100 events including movies, music and performances on the riverside of the Thames penetrating London for a month in September. The art community is focusing on his work to be installed on the river.
"The child who writes the word "꿈" on the 'Floating Dream' might be Alan Kurdi, three-year-old Syrian refugee boy who was found dead in a Turkish beach in September last year and broke the heart of people around the world or a child who defects North Korea risking himself for freedom," Kang told this reporter in Manhattan. "I have collected pictures of children around the world since 1998 and hope that I could connect the torn-apart world again and heal the children. Children are the promise of the future and will lead the world."
"While developing the 'Floating Dream' of the Thames, I also thought about the 'Bridge of Dreams,'" he said. "I hope that 'Floating Dream' leads to the 'Bridge of Dreams' and the dreams of children around the world can be a hope that can connect the disconnected folk on the Korean Peninsula."
He has long dreamt of the "Bridge of Dreams," the world's largest circular bridge with a diameter of 250 meters decorating the inside with one million 3 by 3-inch square panels containing children's dreams and the outside with lyrics that both South and North Koreans can sing together. He wants to install his work over the Imjin River.
"If the 'Bridge of Dreams' is set up over the Imjin River, the river will no longer separate the two countries. Instead, it will be a line connecting them," he said. "If many people hope for reunification walking on the bridge, I'm sure the day will come sooner."
뉴욕=부형권특파원 bookum90@donga.com