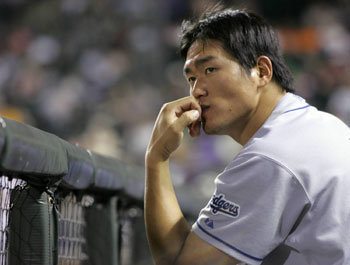 "I want to achieve KIA's tenth Korean Series victory, and personally, I would like to break Lee Seung-yeop's (Yomiuri) record for home runs in a season (56 in the year 2003)."
Choi Hee-seop (28, former Tampa Bay Devil Rays player), Korea's first Major League batter, is coming back to KIA.
KIA announced on May 10 that they had signed a contract with Choi. The contract includes 800 million won in advance payments, a 350 million won annual salary, and 400 million won in options for a total of 1.55 billion won. This amount is higher than the 1.35 billion won (1 billion won in advance payments, 350 million won annual salary) involved in the contract signed between Bong Jung-keun (former Cincinnati Reds player) and the LG Twins last year.
General manager Jeong Jae-gong of KIA won this contract by going to L.A. to meet Choi in person. The transfer fee, which had caused controversy, was not paid.
Choi began his baseball life in the U.S. with the Chicago Cubs in 1999, playing his first Major League game in September of 2002. He went on to play for the Florida Marlins and Los Angeles Dodgers. However, after his transfer to the Boston Red Sox last year, he had remained in the Minor League due to the lasting effects of an injury. This year, he signed with Tampa Bay with an invitation to big-league spring training, but failed to return to the Major League. Choi played in a total of 363 Major League games with an average of 0.240 (220 hits out of 915 at bats), 40 home runs, and 120 RBIs.
Choi returns to Korea on May 11 with G.M. Jeong.
Will He Make It –
Choi, originally from Gwangju, has the potential to become a franchise star.
However, there is speculation about whether he will be able to become a big-time slugger like Lee Seung-yeop. When he was playing for the Dodgers, Choi became the first Asian player to hit three home runs in one game in a game against Minnesota. Last year, at the World Baseball Classic 2006, he hit a three-run homer that clinched the game against the U.S. Few can match his power.
However, Coach Kim In-sik (Hanwha), who led the Korean team at the WBC games, evaluated Choi by saying, "With his current swing, it won't be easy for him to hit the breaking balls that Korean pitchers throw." Choi is having trouble finding a style of his own, to the extent of changing his swing form almost every year. It is questionable how fast he will be able to adjust to Korean pitchers, who have advanced strikingly over the past few years.
Overlapping Positions: KIA's Dilemma –
Since the season has already begun, the addition of Choi to the team will inevitably cause a domino effect within the team lineup. In Choi's usual position of first-base is Jang Seong-ho, who is going for an average of over 0.3 for the tenth consecutive year. In the position of pinch-hitter is Lee Jae-joo.
Manager Seo Jeong-hwan said, "I guess Jang, who has experience as an outfielder, should go outfield," but in that case, foreign player Larry Sutton, who is an outfielder, will have nowhere to go.
uni@donga.com