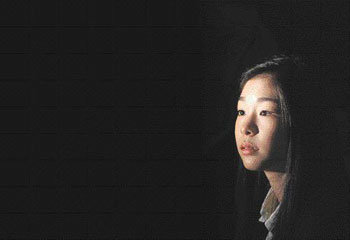 Diagnosed with early-stage disc herniation, Kim Yu-na (17, Gunpo Suri High School) embarked on a rehabilitation program on January 3 at the Sky Sports Medicine Clinic, located in Dongdaemun-gu, Seoul. It is clear that she can't take part in the National Men's and Women's Figure Skating Championships, which starts on January 9 as a result. Furthermore, whether she can play in the Changchun Winter Asian Games starting on the 28th or the World Figure Skating Championships scheduled in March is also doubtful. So, how bad is her condition?
Cho Seong-yeon, president of Sky Clinic and physician in charge of Kim, said, "She won't have problems skating as long as proper care is taken."
According to Dr. Cho, the disc between the fourth and fifth lumbar vertebrae of Kim's waist is pushed back and touching her nerve. The disc between the fifth lumbar vertebrae and the first coccyx has also swelled up a little, and is just about to develop into a hernia. The doctor says that symptoms at this stage are curable by receiving two to four weeks of physiotherapy.
However, she can't do regular training for a while. Even after recovery, continuous care is necessary.
On the same day of her diagnosis, Kim immediately began her five-hour daily rehabilitation program. Her training focuses on reinforcing her waist muscles and maintaining her body balance. Programs include walking in a pool, stretching on mats and exercising.
Meanwhile, Kim's mother Park Mi-hee submitted to the Korea Skating Union a statement of reasons why Kim will be unable to participate in the national championships with doctor's diagnosis.
kimsk@donga.com