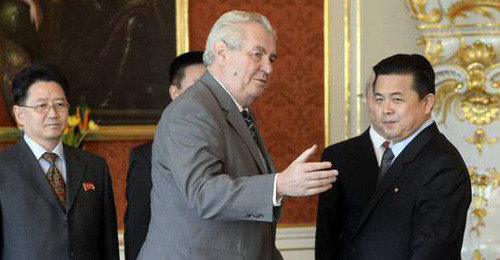 The Czech Republic is bothering its head over Kim Pyong Il, the North Korean ambassador to the Czech Republic, due to media reports speculating that he will likely be the North Korean leader Kim Jong Un's next assassination target. Kim Pyong Il is a half-brother of Kim Jong Un's late father and former leader Kim Jong Il.
A South Korean diplomatic official said Tuesday that the Czech government seemed to be paying significant attention to Kim Pyong Il after seeing the Malaysian government in deep trouble over the poisoning assassination of Kim Jong Nam, the current North Korean leader's half-brother. "The Czech Republic, which has a powerful intelligence agency due to its communist history, is paying close attention to Kim Pyong Il. The Czech government is reportedly gathering information about the North Korean envoy whenever he goes out on appointments, checking movements surrounding him.
Reportedly, Kim Pyong Il has almost never been involved in public activities since he received his credentials from Czech President Miloš Zeman in January 2015. "Among foreign ambassadors to the Czech Republic, few have ever met Kim Pyong Il," said a South Korean diplomatic official. "It seems that he keeps a low profile, doing almost nothing more than commuting between his official residence and the (North Korean) embassy." The Czech Republic, once a communist ally to North Korea, is maintaining nothing but formal diplomatic ties with the North, which has few workers and residents living in the Eastern European country.
There have been media warnings about possible threats to Kim Pyong Il's safety. On Tuesday, Hong Kong 01, an Internet newspaper in the Chinese city, carried a column saying that what Kim Pyong Il and Kim Jong Nam have in common is that their mothers were not legitimate wives of their respective fathers and arguing that Kim Pyonng Il will likely be the next target. Kim Pyong Il, who was born between North Korea's founder Kim Il Sugn and his second wife Kim Sung Ae, has been drifting overseas for 38 years since losing the competition with Kim Jong Il for power succession. Kim Jong Nam's mother, Sung Hye Rim, was never formally married to Kim Jong Il.
An Internet media outlet in the Czech Republic quoted a Korean Peninsula expert in the country as saying that while Kim Pyong Il in Prague could potentially form a government in exile but could also face death before long. Japanese daily Sankei Shimbun reported last week that balloons carrying leaflets on calls for having Kim Pyong Il as head of the North Korean government in exile had been flown to the North.
The International North Korean Association for Human Rights and Democracy, a group of North Korean defectors seeking to set up a North Korean government in exile, claimed that it had contacted Kim Pyong Il. A member of the group who was involved in the process said that it was not easy to contact Kim because of heavy surveillance by North Korean security agents and that Kim was concerned over his and his family's safety with no particular interest in politics. He is living in the Czech Republic with his wife. Although he has a son and a daughter, it had not been confirmed whether he is living with his children, too.
It is very likely that the North Korean leader regards his uncle, who resembles Kim Il Sung and has moderate character, as a potential political threat. However, some observers say that while Kim Jong Nam, who publicly complained about North Korea's third-generation power succession, Kim Pyong Il is different because he has served as North Korean ambassador to some Eastern European countries and has never made any public comments about the North Korean regime.
Foreign envoys who expect threats to their own safety can ask their host countries for protection. Without such a request, however, the Czech Republic cannot act out to protect Kim Pyong Il.
Jung-Min Dong ditto@donga.com