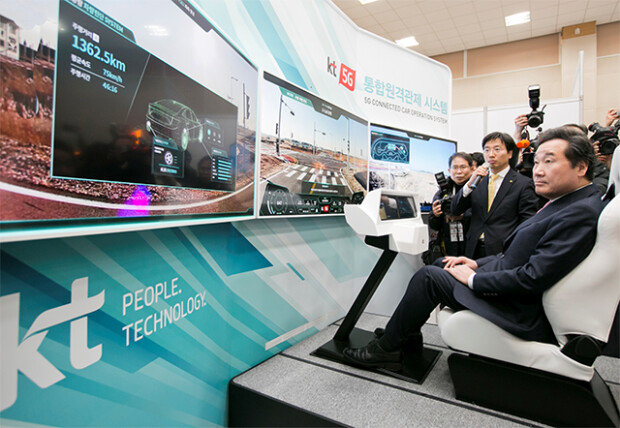 In the upcoming era of 5G networks, you would not have to worry about a possibility of losing your consciousness while driving and facing life-threatening moments. It will become a reality thanks to infrastructure that stops your vehicle in safe manner in case of emergency. As part of a future picture, you would possibly tell your vehicle to come to you no matter where you are.
South Korean telecommunications carrier KT released "5G remote cockpit" system that controls driving remotely on Monday at K-City, which was led by the Korea Transportation Safety Authority. To serve as a test bed for 5G self-driving technology, the experimental city has been built on a 360,000-square-meter wide lot in the Korea Transport Institute in Hwaseong City, Gyeonggi Province.
The 5G remote cockpit system allows remote control of vehicles and road infrastructure, based on 5G-V2X communications, which enables cars to exchange information and data with other vehicles, mobile devices and road systems on 5G networks. In the case of emergency, the control system remotely intervenes in the situation with cars on the road to prevent against accidents.
The newly-developed system includes V2I service, wireless telecommunications between vehicles and transport infrastructure, whose in-vehicle high resolution camera linked to low latency 5G networks will transmit real-time photographs to the control center.
SK Telecoms also announced 5G carsharing technology for self-driving cars, which allows the user to enter the departing point and the destination to call the vehicle. The mobile carrier also released a new technology that detects changes in road surroundings with an in-car camera and transmits data to update the company's HD map.
yes@donga.com