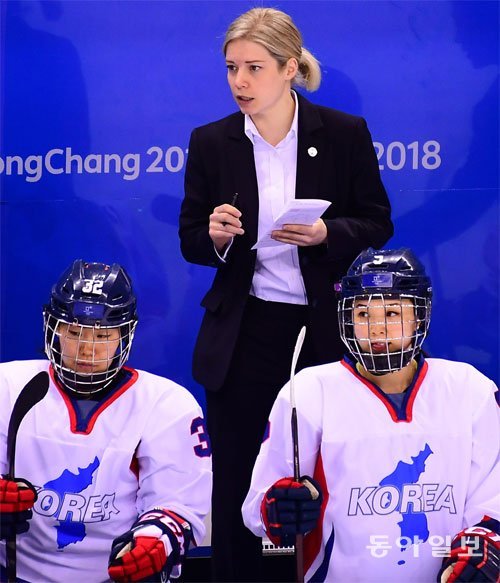 The joint team of the two Koreas during the women's ice hockey games at the 2018 Pyeongchang Winter Olympics in February inspired many people. Although the team ranked the worst among participating teams by losing all five games, winning or losing did not matter so much. The single inter-Korean team (23 South Koreans, 12 North Koreans) that has been organized for the first time in the history of the Olympics received favorable comments that it realized the spirit of the Olympics, i.e., peace and harmony through sports.
Coach Sarah Murray (age 30, Canada), who led the single team was in tears, said, "We may have appeared as two teams in the eyes of others but we were one." The national female ice hockey team was like the symbol of the Pyeongchang Olympics. The team received multiple awards for its achievement even after the Olympic Games were over.
Coach Murray expressed her wish to lead the team until the 2022 Beijing Olympics immediately after the Pyeongchang games. "I received an offer to renew my two-year contract from the Korea Ice Hockey Association recently and I am thinking positive about this," said Murray at that time. "I will try to go to Beijing Olympics as well."
The association, however, announced Tuesday that it appointed Coach Kim Sang-jun, who led the female national team under the age of 18, for the national female ice hockey team coach position. The term of contract for coach Murray, who started her post as female national team coach in 2014, was until the World Championships in April this year. Then, why did the renewal of the contract that was offered by the association and desired by coach Murry failed to take place?
It came to be known that coach Murray's contract renewal foundered due to group resistance of players.
Players of the national team delivered their opinions to the association that they "are no longer able to work with coach Murray anymore." The players argued that coach Murray lacks experience and there was a problem in her way of running the games and appointing players. It had been said that the players would boycott the World Championships if the renewal of the contract were to be carried out. Most of the 23 players who participated the Pyeongchang Olympics opposed coach Murray's renewal of the contact.
The association imposed a severe punishment - suspension of qualification as national players - for six months, to players who caused group disobedience. Some 20 players were punished. These players participated the women's league that was held from August to September but never convened as national players. Players who were naturalized went back to their home country and goalkeeper Shin So-jeong, who protected the goal for more than 10 years, resigned for personal reasons.
Heon-Jae Lee uni@donga.com