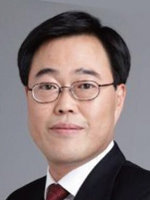 South Korea's Financial Services Commission on Friday nominated Kim Ki-sik, who currently heads the Korea Institute for the Future and served in the 19th National Assembly, as a new chief of the Financial Supervisory Services. If President Moon Jae-in approves the nomination, a former lawmaker and well-known civic activist will be appointed as a successor to Choe Heung-sik who recently resigned over allegations of his involvement in irregular hiring.
This is the first time for a politician to lead the country's financial watchdog since its establishment. Kim is also the second governor from the private sector after his predecessor. Kim is known for leading aggressive reform campaigns targeting at chaebol, or family-run conglomerates, as he worked for the country' leading NGO "People's Solidarity for Participatory Democracy," along with Fair Trade Commission Chairman Kim Sang-jo, thus financial institutions and businesses are bracing for the upcoming changes. "Kim is the right person to successfully lead innovation and change in the Financial Services Commission, which faces many challenges," the financial regulator said.
A substantial change is expected to be in the financial policy. The financial watchdog to be led by Kim will clearly voice its opinion with respect to supervision and monitoring of large business groups such as Samsung and Hyundai Motor, as well as inspecting accounts held by Samsung Group Chairman Lee Kun-hee under borrowed names.
Kim will emphasize fundamental principle on the restructuring front. He recently wrote an article, arguing, "The government should not intervene in matters of an individual company. What is more dangerous to the nation's economy is the industrial ecosystem where poorly run businesses keep staying."
Yoo-Hyun Kang yhkang@donga.com