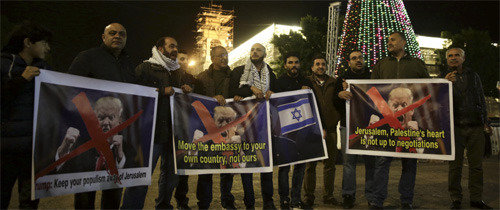 Recognizing Jerusalem as the capital of Israel has been a controversial issue since the Clinton administration in 1995. The congress of the United States passed "Jerusalem Embassy Act," a bill to move the United States Embassy from Tel Aviv to the fiercely contested Holy City. However, former U.S. Presidents Bill Clinton, George W Bush and Barack Obama did not move the embassy, utilizing the policy of six-month waiver. Aftermath of the embassy relocation would have been more than huge in the U.S. diplomatic relations and Middle East peace, as both Israel and Palestine claim Jerusalem as their capital.
U.S. President Donald Trump has reopened the "Pandora's box". At last year's presidential election, he attracted pro-Israeli voters with the embassy relocation pledge. However, he became cautious after being elected, and like his predecessors, President Trump also signed a waiver delaying the transfer of the American embassy from Tel Aviv. According to The New York Times, President Trump's son-in-law, Jared Kushner, persuaded him to sign a waiver. Jewish billionaire casino magnate Sheldon Adelson, who donated as much as 25 million U.S. dollars to the super PAC, affiliated with Trump's official outside group, expressed strong anger against the relocation waiver.
The Washington Post said the recognizing Jerusalem as capital of Israel and ordering the relocation of the U.S. Embassy to Jerusalem could derail the White House's peace efforts as pro-Israeli politicians seized the chance of victory over Jared Kushner and his supporters. The newspaper analyzed that Trump had to be in side with pro-Israelis, given not significant progress in peace negotiation. Jared Kushner and Trump's special envoy to the Middle East Jason Greenblatt could not also be in objection any more.
The conflict between the Trump administration and the Palestinian government also seemed to have affected the latest relocation decision. The U.S. Department of State pushed a progress for peace negotiation last month, warning that it would close the Palestine Liberation Organization (PLO) office in Washington, D.C. As Palestinian leader Mahmoud Abbas strongly resisted, the U.S. Department of State changed its position for the PLO office to a limited operation under the condition that the penalty will be cleared if Palestine shows a sincere attitude for peace talk.
Yong Park parky@donga.com