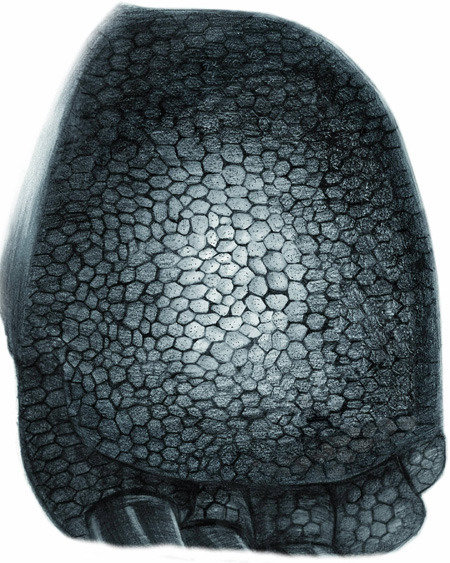 A footprint fossil of a giant dinosaur sauropod complete with skin and shape has been discovered in Haman County, South Gyeongsang Province. This is one of the biggest and the best preserved fossil ever found in the world.
A research team led by Paik In-sung, an earth and environmental science professor at Pukyong National University, published the finding in the Scientific Reports, a sister journal of Nature.
"Countless number of dinosaur footprint fossils have been discovered throughout the world, including the Korean Peninsula, but few are complete with foot skin," the professor said in a phone call interview with The Dong-A Ilbo Monday. "This fossil will be very helpful in piecing together what the Korean Peninsula looked like in cretaceous period 100 million years ago and the ancient world dinosaurs lived in."
The team uncovered the fossil on a rock found in a construction site in Haman County while studying the sedimentary layer of the early Cretaceous period. The fossil is more than 50 centimeters in diameter and inside the fossilized footprint are hexagon-shaped skin textures that are 6 to 19 millimeters in width forming a beehive pattern.
The research team analyzed that the patterns helped dinosaurs walk without slipping in mud flats and clay soils by increasing surface friction. "The reason why dinosaurs in the late Mesozoic period, including the Cretaceous period, had polygonal skin textures on their feet seems to be related to the expansion of their habitat from forests to plains with lakes," said professor Paik.
When asked why fossils are often found in the region, he said, "It is because the region has proper conditions for the preservation of fossils." One-hundred million years ago, the region had a semi-arid climate, alternating between rainy season and dry season, thereby creating an environment where dinosaurs frequented on the edges of the lakes and ponds in the region, the professor explained.
Won-Mo Yu onemore@donga.com