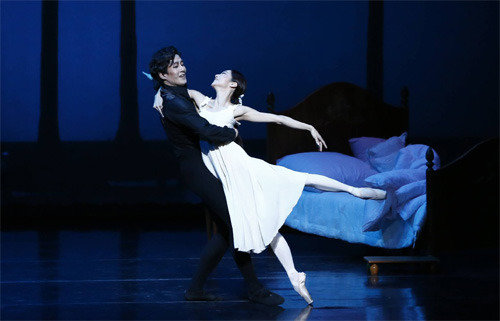 Everyone was bracing for farewell. Unlike other times, a lobby before the performance was filled with calm rather than usual lively buzz. Some were seen bringing a handkerchief or already having their eyes welled up with tears while looking at the photos in a poster. All were preparing themselves in their own ways for planned farewell soon to arrive.
At the Opera House of the Seoul Arts Center on Sunday, the Universal Ballet Company (UBC) presented "Onegin" on stage, with UBC's principal dancers Hwang Hye-min and his husband Eom Jae-yong as leading roles, Tatyana and Onegin. The performance was ever more meaningful as it was a retirement performance for the ballet couple, who had only one last performance to show to an audience as career dancers Sunday evening.
The couple seemed to put on not just a performance but their life as ballet dancers on stage. A pas de deux in Act I and III were full of emotions such as excitement, passion and regret over love. The performance reached the climax when in Act III, Tatyana (Hwang Hye-min) firmly let go of her first love Onegin (Eom Jae-yong). In the scene, what the audience saw was not only Tatyana but a star ballerina who had decided to let go of her lifelong passion when on top of her career. Hwang's such moves skillful but also filled with emotions were touching enough to make ballet fans choked up, with some already wiping tears even before the end of the performance.
The couple's very last performance was met by the deserved standing ovation of the audience. Following repeated curtain calls, a surprise video clip made by the company was played on the back screen, which moved the couple to eventually break down in tears. As soon as the phrase "You will be forever remembered. Thank you for being our ballet dancers," came up in the video clip, the whole audience also held up a placard with the same phrase to join the surprise. Eom approached his ballet and life partner bathed in tears and put an arm around her shoulders, as if saying "I am grateful we are ballet dancers."
With the lingering impression, many stayed in their seats to give a clap even after the curtains were finally closed, and some hovered around the entrance of the cast for a long time. Obviously, it must have been hard not only for the couple but also for their fans to say good-bye.
Dong-Wook Kim creating@donga.com