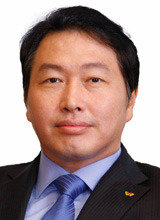 SK Group Chairman Chey Tae-won met with Vietnamese Prime Minister Nguyen Xuan Phuc to discuss the privatization of state-owned enterprises in Vietnam and the operation of the working-level consultative body for streamlining the energy industry.
SK Group said on Friday that Charmain Chey had a meeting with the Vietnamese prime minster, the previous day at the prime minister's official residence. "In conjunction with the Vietnamese future growth strategy, SK would like to lay the foundation for a win-win partnership with its Vietnamese counterparts," the South Korean company quoted the chairman saying. In reply, the Vietnamese prime minister said Vietnam will expand the privatization of public enterprises for the growth of the country's economy in the long term and is looking forward to SK's role in the country's efforts.
Chey also met with business, industry and political leaders in Vietnam including Nguyen Chi Dung, the Planning and Investment Minster, Nguyen Dang Quang, chairman of Masan Group, the nation's largest consumer goods maker, Truong Gia Binh, chairman of FPT Group, the biggest information technology company and Nguyen Kim Son, the president of Vietnam National University, Hanoi, to discuss ways to promote mutual cooperation in the energy and ICT sectors.
Ji-Hyun Kim jhk85@donga.com