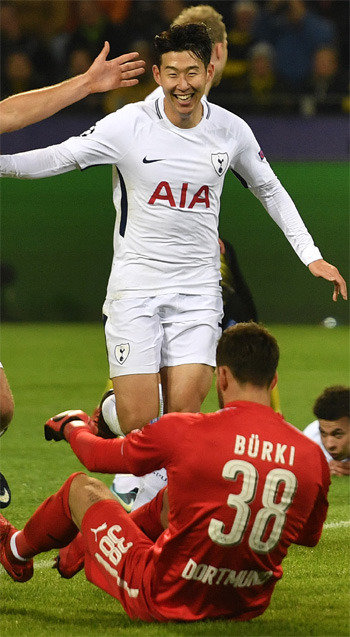 Tottenham Hotspur's South Korean striker Son Heung-min has been lauded for his performance after finding the perfect position to show off his strength.
Son netted the winner 14 minutes from time to secure the group over Dortmund Tuesday during the UEFA Champions League group H match at Signal Iduna Park in Dortmund, Germany.
With Harry Kane leading the line for Tottenham, Son scored a fantastic go-ahead goal to give Spurs a 2-1 lead after receiving his colleague Dele Alli's pass in the 31st minute during the second half. It was the fourth goal of the season for Son.
"It was a difficult game, but we deserved to win," Son said. "We should how strong our mentality is. I'm very happy to score."
One of the two front line strikers, Son scores goals by making the most out of his strength, shooting ability, as he penetrates into a space that his fellow players create by dispersing opposite defenders.
Son also scored two goals for the Korea National Football Team at the Korea vs. Columbia contest on Nov. 10, which he played as a frontline striker instead of his previous position as a left side striker.
Yun-Cheol Jeong trigger@donga.com