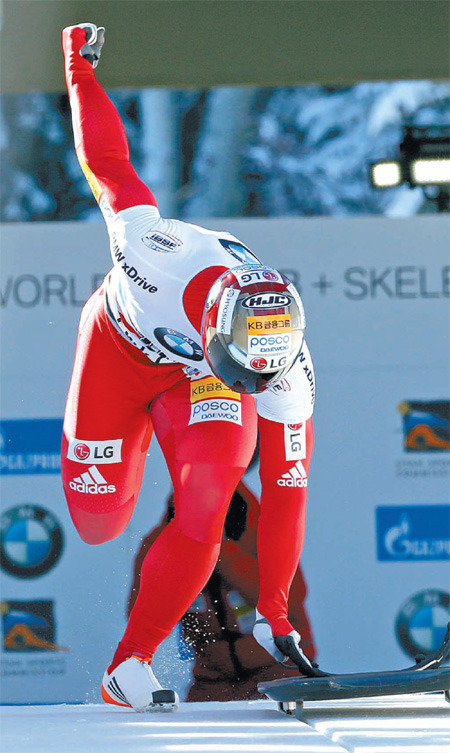 "It is easy to say, so I hope the result… (can speak of my determination)," Korean skeleton slider Yun Sung-bin told reporters at the Incheon International Airport last month before he flied to the United States for the International Bobsleigh & Skeleton Federation World Cup. The greatest strength he said he possessed was a firm belief in himself that he "can do this." The 23-year-old player seemed particularly strong-minded when saying he would be undaunted in playing the race with legendary skeleton player Martins Dukurs of Latvia.
He was by no means bluffing. Yun won the second leg of the World Cup in Park City, Utah, on Saturday (local time) with the combined time of 1 minute and 37.32 seconds after two runs, 0.63 seconds ahead of Dukurs. This is Yun's first World Cup gold medal since December 2016, when he topped the event in Whistler, Canada. With the latest result, Yun has avenged his defeat to Dukurs from the season opener last weekend, where he took silver behind the Latvian by 0.11 seconds.
His strenuous effort to beat Dukurs is most noticeable in the ideal proportion of his upper and lower body at 6 to 4. He used to weigh around 70 kilograms, but has increased and maintained his weight at 85 kilograms after entering the sport of skeleton by sometimes overeating in order to create as much muscle as possible. As a result, his body is now recognized as being "perfect for skeleton" by experts.
In less than five years, Yun has grown to compete with the world's best skeleton player Dukurs. Apparently, such a rise to the top would not have been possible without his tenacity hidden deep beneath his calmness.
Now, the Korean player dreams to become a new legend in Pyeongchang next year. By clinching a gold medal this weekend, he has made a good start to his ambitious plan. Certainly, the race will be nothing but tense as Dukurs also seems to renew the resolve to win his first gold medal in the PyeongChang Winter Olympics. It remains to be seen whether the perseverance of Korea's fledgling skeleton player will bring him a victory in a nerve-rackling race.
Jae-Hyeng Kim monami@donga.com