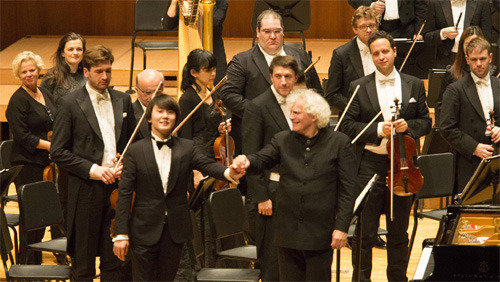 Pianist Cho Seong-jin (23) had a concert with the Berlin Philharmonic Orchestra, one of the best orchestras in the world, at the Seoul Arts Center on Sunday. The first Seoul concert of the Berlin Philharmonic was conducted in 1984 by Herbert von Karajan, principal conductor of the Berlin Philharmonic for 35 years, and this is the sixth concert in Seoul. Simon Rattle who has been leading the orchestra since 2002 made his last tour to Seoul as a conductor of the Berlin Philharmonic, as he will move to the London Symphony Orchestra next year.
Cho has put out a string of concerts with the Berlin Philharmonic in Berlin, Frankfurt and Hong Kong. The Seoul concert was the fourth and the last one Cho played with the Berlin Philharmonic this year. Richard Strauss' Don Juan and Johannes Brahms' Symphony No. 4 were included in Sunday's program, and Cho performed Maurice Ravel's Piano Concerto in G Major.
"My dream as a pianist was to perform with the Berlin Philharmonic and make a debut at Carnegie Hall, but that came all too soon, to my surprise. I should have put more efforts and time into my dream," said Cho at a press conference before the concert. "My goal is to perform again with the Berlin Philharmonic and stand again on the stage of Carnegie Hall."
Pianist Lang Lang had been supposed to play with the Berlin Philharmonic, but had to withdraw a month before the concert, due to an injury (aponeurosis) on his left arm. Polish pianist Krystian Zimerman, a longtime friend of Rattle, recommended Cho.
After having his dreams as a pianist realized rather early, Cho spoke of his personal wish. "My longtime dream as a person is to be happy. It's a simple, but not easy one."
Dong-Wook Kim creating@donga.com