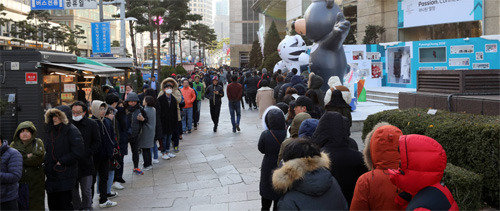 A line of some 1,500 people was formed on Saturday morning from the main entrance of the Lotte Department Store located at Jung-gu, Seoul to the Euljiro 1-ga Station of subway line 2. The early winter temperature of Seoul, which fell below to minus 4 degrees Celsius in the morning, did not stop people from lining up. Around 9:00 a.m., the staff of the department store handed out 700 ticket numbers. "The person who received the first ticket number arrived at the department store at 2:00 a.m.," said a Lotte Department Store official.
This line is for purchasing the officially licensed padding for the PyeongChang Winter Olympics. Lotte Department Store, which is an official sponsor of the PyeongChang Winter Olympics, designed the down coat and started selling them at the PyeongChang Store, which is installed in 20 major branches of Lotte Department Store.
Ever since it was first sold on Oct. 26, the padding has become famous as "Pyeongchang Long Padding" and drew exponential popularity. The 100% goose down filled padding, which only costs 149,000 won, is known to be cost effective as it is half the price of other products in the market.
The Lotte Department Store is very much encouraged, as its long padding has become center of attention and the PyeongChang Winter Olympics has also become a hot potato among citizens. "We designed the padding hoping that many citizens can wear warm clothes and cheer for the Olympic Games together," said Choi Eun-gyeong, the chief buyer at Lotte Department Store in charge of designing the down coat. "I am delighted to see so many people being satisfied with the padding."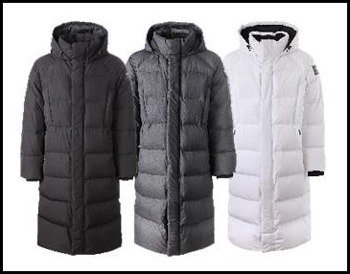 Lotte Department Store established a PyeongChang License Team within the department store in December 2016 and designed PyeongChang goods, such as gloves, t-shirts, paddings, scarves and commemoration badges. Choi was sure that long paddings would be a hit this time of the year by analyzing customer surveys and focus group interviews (FGI) of store staffs.
Choi asked for the production of the coat to Shinsung Tongsang, a clothing manufacturer in April. The margins of the department store have been minimized to lower the price as they are Olympic products.
As of Sunday, 23,000 among total production of 30,000 PyeongChang long paddings have been sold. The remaining 7,000 will be sold next week at some Lotte Department Store shops. Additional production of the coat is not going to be easy due to difficulties in obtaining subsidiary materials and finding a factory for production.
Mangers of major shops and the PyeongChang License Team will organize a meeting Monday to designate stores that can maintain safe management and notify it on the homepage. "Other 'PyeongChang goods' such as heart finger gloves that have a clear PyeongChang mark are also gaining attention," said a Lotte Department Store official.
Hyoun-Soo Kim kimhs@donga.com