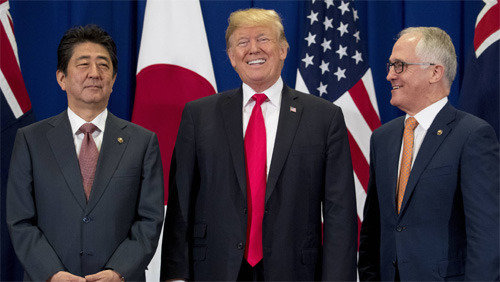 U.S. President Donald Trump's first visit to Asia is creating controversy over his low-profile diplomacy towards China, the Russia scandal and wordy war on North Korea. Critics assert that Trump is swayed by Chinese President Xi Jinping, incurring isolation and losing the U.S. leadership position in the international community.
Senate Minority Leader Charles Schumer called President Trump's trip to Asia a "flop" on his twitter on Sunday (local time). "Trump Asia trip a flop: POTUS acts like a lap dog to Xi and China, but talks tough to our friends in Southeast Asia," said Schumer, blasting Trump for his remarks in China blaming past presidents instead of Beijing for trade deficit between the two countries.
The White House is putting efforts in publicizing Trump's achievements during his visit to Asia through press releases by categorizing them into three goals — strengthen international resolve to denuclearize North Korea, promote a free and open Indo-Pacific region and advance America's prosperity. However, the American press is largely standoffish to this.
The New York Times criticized President Trump for making "two starkly contradictory calls" for a world-wide coalition against North Korea's nuclear threats while maintaining "America first" trade policy. The Wall Street Journal and The Washington Post pointed out President Trump was isolating the United States from the world by insisting on his America-first policy in APEC and other countries. ASEAN and Hong Kong signed an FTA on Monday as if to show Trump who emphasized protectionism and the America-first policy.
Yong Park parky@donga.com