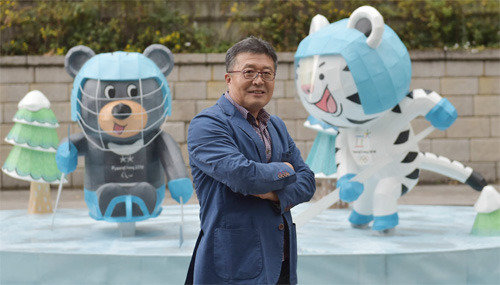 With the countdown of "Three, two, one!", a skier jumps down the waterfalls of the Cheonggyecheon Stream with glowing light. Soohorang and Bandabi, the mascots of the 2018 PyeongChang Winter Olympics, carry torches, ride a bobsled and figure skate.
The Cheonggyecheon Stream where the 2017 Seoul Lantern Festival is being held until Nov. 19 is fully packed with visitors every night, who can watch and take photos of beautiful lanterns describing major winter games to be played at the 2018 PyeongChang Winter Olympic Games. "The theme of this year's festival is PyeongChang Winter Olympics," said Park Jae-ho, the director of the festival. "You can feel the heated passion boiling in Pyeongchang in the middle of Seoul."
What distinguishes this year's edition from the previous festivals is the exhibition of advanced LED lanterns along with lanterns made of Hanji, Korean traditional paper. LED lanterns are in the shape of Soohorang and Bandabi playing 12 sports games such as alpine skiing, freestyle skiing, ice hockey, short track, figure skating, ski jump, wheelchair curling, luge and bobsleigh. "We attached LED lanterns to wire framework to freely express bright and vibrant colors," said Park.
The 57-year-old expert in street festivals have served as the director of eight Seoul Lantern Festivals out of a total of nine. He has also directed "King Jeongjo of the Joseon Dynasty's Procession to Hwaseong" since 2016.
"Being held in every November, the Seoul Lantern Festival is one of the city's representative festivals, which attracts 2.5 million to 3 million visitors each year. As more than 700,000 foreigners visit the festival, it's a great opportunity to promote the 2018 PyeongChang Winter Olympics," said Park. "Posting the pictures of beautiful lanterns taken at the festival on social media will also be one way to let the PyeongChang Winter Olympics be known to the world."
Seung-Hoon Cheon raphy@donga.com