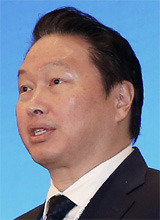 "Inequalities and polarization of wealth between those who adapt to the rapidly changing world and those who do not have become serious. It is already beyond capacity of the government and civic groups. Companies should take the lead in creating social values."
SK Group Chairman Chey Tae-won gave a speech stressing the social role of corporate in China. It is viewed that he showed the corporation's determination to actively solve social issues in the future as it recently brought up topics such as "shared infrastructure" and "social values."
Mr. Chey delivered an opening speech at the Beijing Forum 2017 held at the Diaoyutai State Guest House in Beijing on Friday (local time). The event is hosted by Peking University and the Korean Foundation for Advanced Studies established by SK Group. "In order for China, Korea and all members of Asian society to coexist, companies should create social values that can solve social issues," he said.
"After SK Group declared to solve social problems with social values, we have been working on specific action plans," the chairman also said. "We are convinced that this is the only way for companies and our society to survive."
Lee Han-soo, chief of the PR Team at SK Group, explained that social values are the business philosophy that Chairman Chey has professed several times and they will increase the related activities in the years to come.
Eun-Taek Lee nabi@donga.com