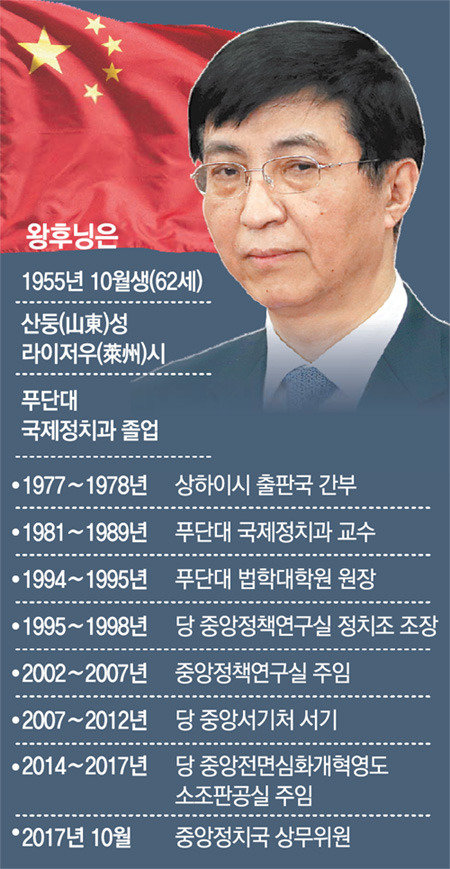 "An introverted theorist who has been working behind the scenes now climbs to the top of the Chinese political ladder."
Secretary of the Central Committee Secretariat Wang Huning's rise to the member of the Politburo Standing Committee can be simply put in the above sentence. He has been less known to the public compared to other members of the Committee in spite of his career of shaping the official party ideology for 22 years for three presidents – Jiang Zemin, Hu Jintao and Xi Jinping.
Unlike other members of the Committee, the 62-year-old politician was a scholar who has degrees in science of international politics and law at Fudan University in Shanghai. His elevation has indicated how much Chinese President Xi Jinping puts importance on ideology propaganda for political stability and social control.
The scholar-turned-politician has played a key role in drafting Jiang Zemin's Three Represents that is enshrined in the party constitution and Hu Jintao's scientific development. The "Xi Jinping Thought," which was inserted in the party's constitution recently is also a work of Wang. This is why he got the nickname of "Sam-Jo-Hwang-Sa," which means a teacher who taught the emperors of three dynasties.
In a seven-page thesis published in 1988, Wang argued, "A centralized leadership structure is superior than that of Western countries that are democratic and decentralized in that the former is more stable and can maintain rapid growth." As can be seen in the thesis, he is a champion of state authoritarianism, which makes it understandable why he is desperately needed by President Xi, who pursues absolute power.
In the thesis, Wang analyzes, "When society reaches a stage where call for democracy increases due to rapid economic development and modernization, political reform is unavoidable."
Wang Huning's theory also served as the foundation of President Xi's speech at the 19th Party Congress held on October 18 in which he brought up the problem of "a newly established contradiction between people's desire for comfortable and affluent lives and unequal social development" and showed his commitment to resolve it.
Wan-Jun Yun zeitung@donga.com