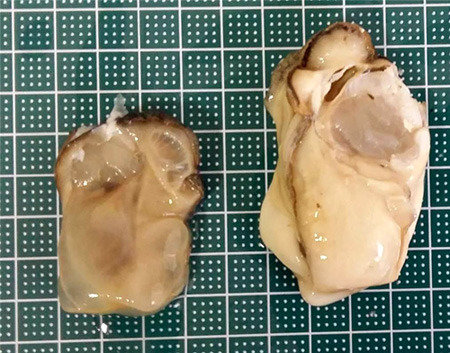 The increasingly cold weather of late indicates that the season for oysters has come back. Thick and meaty oysters are in high demand among consumers. And research efforts are in full swing to enlarge the size of oysters to meet consumer expectations.
One of the ways to culture larger oysters is to get rid of their reproductive capacity. They are called "triploid oysters." The triploid oysters have been modified to use their energy for reproduction on enlarging their size. While typical oysters have only a pair of chromosomes (diploid), triploid oysters have one and a half pairs of chromosomes. The triploid oysters cannot generate reproductive cells owing to chromosomal anomalies, but instead they grow bigger in size. Compared to typical kinds, the triploid oysters grow 15 – 20 percent faster, making them more suitable for oyster farming.
In addition, a new study found that the noise within the sea can affect the growth of oysters. On Wednesday, a research team led by Jean-Charles Massabuau of University of Bordeaux in France, published a report on the Public Library of Science that oysters close their shells rapidly in response to low-frequency sounds. Oysters responded more sensitively to low frequencies between 10 to 200Hz typically generated from cargo boats.
The drive for such research efforts can be ascribed to the difficulty of growing good oysters. The production volume of oysters from Tongyeong, Geoje and Goseong of Southern Gyeongsang Province, takes up 80 percent of the total local oyster production in South Korea.
Rich in minerals and Vitamin A and D, the locally produced oysters are in high demand for their savory taste, but it is very difficult to get meaty, top-grade oysters. The oyster farming begins in March before going through a breeding season in the summer and harvesting in November, and many of them die in summer, and even if they survive, their meatiness diminishes significantly. The oysters are subjected to a great deal of stress due to high temperatures, and it is also difficult for them to grow big enough because of lower volumes of dissolved oxygen in the seas, owing to the massive amount of ocean planktons in summer.
solea@donga.com